See Our All New Fun Deals & Discounts of the Month!
Click Here
JERSEY SHORE LIMO TOURS
See The Jersey Shore Like Never Before
SIGHTSEEING TOURSROMANTIC TOURSBAR CRAWLS!

All Tours Are 6 Hours in Duration!
Let's Take a Ride on the Wild Side!
The Most Complete NJ Shore Boardwalk Guide Ever | It's The Only Resource That You Will Ever Need!
The NJ shore is a staple of our state for good reasons. From Keansburg all the way down to Cape May you'll find a wide variety of activities to do and places to visit. You'll never get bored of visiting one after the other, especially because some are always changing while others keep their nostalgic charm. Learn about the best boardwalks, towns, and things to do at the shore!
103 Fun Attractions & Activities That You Can Only Experience Down the Jersey Shore!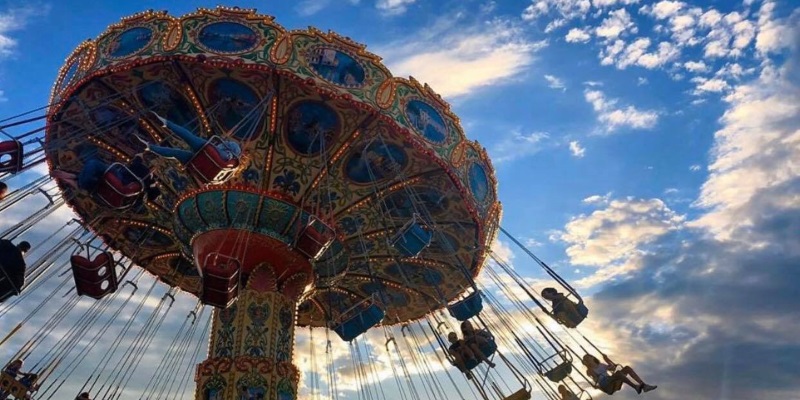 Action & Adventure Down the Shore

1. Rent a beach cruiser and feel the ocean breeze in your hair as you ride up and down the boardwalk.

2. Rip around the ocean and bays on a Waverunner or a jet ski at one of our top picks for places that offer Jet Ski rentals all over the Jersey Shore.


3. You can play beach volleyball in one of the many leagues or just for fun with some friends.

4. Fly above the Seaside Heights Boardwalk on the sky ride for the best view you can get of the beach and the Atlantic Ocean.

5. Grab a longboard or a skateboard and cruise the boardwalk in style as you shred along the beach.

6. If you want a relaxing day at the park that has an aquarium and boat tours the Historic Gardener's Basin is the perfect place for you to just watch the boats come in and set their anchors or get your sea legs yourself.

7. The Doo Wop Preservation League in Wildwood is an organization dedicated to awareness and appreciation of the 1950s and 1960s American culture.

8. Almost everyone wishes they learned how to surf. Well, Eastern Lines in Belmar has you covered with some of the best boards and surfing-related apparel on the Jersey Shore.

9. The Absecon Lighthouse in Atlantic City is the perfect tour for those wanting to get an amazing view and snap some photos.

10. My favorite place to go crabbing in all of New Jersey has to be Mantoloking Bridge County Bridge. While you set your traps you can relax and watch the boat cruise around in the distance. I've never left his location with anything less than a bushel.

11. Deal Beach is one of the few free beaches in New Jersey, and one of the most unique it has black sand is personally one of my favorite surf spots in the state.

12. If you want an unforgettable experience why don't you try flying through the air on a parasail? You will reach breathtaking heights at Point Pleasant Parasail.


Shore Foodie Stuff

14. Eat some of the best-fried foods like deep-fried Oreos, funnel cakes, fried pickles, and fried snickers bars!

15. Get a massive slice of pizza from Three Brothers Pizzaria in Seaside Heights The slices are so huge they come on multiple plates and still hang off the side of them.

16. Eat some of the freshest lobster you can find in New Jersey at Spikes right on the Point Pleasant boardwalk. Spikes has been a local favorite for many years!

17.If you want a nice quiet and quaint dining experience that serves up delicious New American Food with a vintage vibe you have to stop by Freda's Cafe.

18. You can find sand crabs all over the Jersey Shore! This video will show you the best way to find the little invertebrates while you visit the beach.

19. Visit the famous Jenkinson's Aquarium located right on the boardwalk to see some of the coolest aquatic wildlife that resides in our planet's oceans.

20. After a day on the beach, why don't you check out the hip Brown Room located right at Congress Hall in Cape May for amazing cocktails?

21. For some of the best hotdogs in Monmouth County check out Heidelberg in Keansburg New Jersey. They also serve beer so it's our kind of place.

22. The famous Quincy's Original Lobster Rolls serves you up fresh to table lobster as well as other locally caught seafood located right on the beach.

23. If you want some amazing seafood The Red Store Restaurant in Cape May has a great menu that showcases their local caught flounder and even breakfast pancake bowls in the morning.

24. Before a long day on the beach be sure to fill your belly with a good breakfast. Franks Deli whips up old-school breakfasts that are sure to keep you full.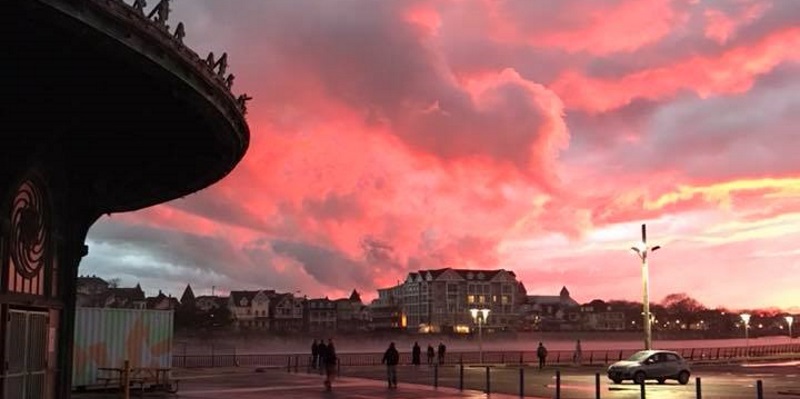 25. Middle Eastern cuisine is so good when done right. Reyla in Asbury Park creates immaculate dishes and serves great drinks without breaking the bank.

26. Jimmy's Italian Restaurant is a great place to grab lunch or dinner. Their menu is built off old-school staples and traditional dishes.

27. No stop to the beach is complete without some seafood. I mean it doesn't get any fresher than Kleins Fish Market. This waterfront restaurant is perfect for both locally caught seafood and sushi.

28. This seasonal bistro lives up to its name. Backstreet Simply Delicious is an affordable option for great food right in Cape May.

29. For a nice atmospheric night out that includes great food and a wide selection of craft cocktails head over The Arlington and you won't be let down.

30. This elegant eatery is located in a sprawling beachfront manse. With beautiful views and an American food inspired menu its perfect for a romantic date night.

31. Everybody could use a dive bar in there life and Robert's Place is one of the best. Located right in Margate they are famous for their delicious wings and stone crabs.

32. Any chocoholic can appreciate good homemade fudge. Shriver's in Ocean City does it right too so be sure to load up for the whole family.

33. The Robinson Ale House is a beachfront American grill with the perfect patio area that serves up some of the best craft beers around from local and national breweries.

34. Taka is by far my favorite place to get Japanise food. With their extensive artfully crafted sushi menu they really knock it out of the park whenever I visit.

35. Mayer's Tavern is the perfect place to cool off and grab a bite to eat. With a great selection of craft beers and cocktails its perfect for winding down.

36. The Beachcomber Bar in Seaside Heights is the perfect place to catch some live music and have a drink at the upstairs rooftop bar area.

37. Artisanal pizza has really because incredibly popular over the past few years. Porta does it right too. You can really taste the difference.

38. The Speakeatery of Asbury Park has the best breakfast and llunch sandwiches down the shore bar none.

39. If you get hungry while visiting Belmar you have to stop by La Dolce Vita for some of the best Italian eateries with an oceanfront view and outdoor patio dining area.

40. 10th Ave Burrito is the best location in Belmar for great Mexican food, live music, and a great bar stocked with craft beers.

41. For a quick bite that's sure to fill you up right on the beach Hot Dog Tommy's is a great choice. With a unique menu served in huge portions, you definitely will get your money's worth whenever you visit this beach town snack stand.

42. If you are looking to grab some drinks I recommend you strongly consider Asbury Park Distilling Co. For craft beers and high-end spirits in a trendy environment its the perfect place to hang out and catch a buzz.


Sightseeing & Tours
43. The south shore of New Jersey in Cape May County is the only place you can see some of the biggest mammals on Earth by taking an exciting whale watching boat tour.

44. John F. Kennedy Park is the perfect waterfront site great for picnicking and a day spent casting your lures while you fish.

45. The Sea Girt Lighthouse is a must-visit when you are in the area. It was built in 1896 to light the pathways between the ocean and the Navesink River. With neat exhibits inside its been turned into a time capsule that showcases this awesome attractions history.

46. Seals are absolutely adorable. At Seal Beach, you can view them as they layout of various islands and rocks that are off the coast.

47. This former army base has been turned into a state park and museum with a great view right on the northern tip of Sandy Hook. Fort Handcock is a great stop if you are ever in the area.

48. These days it's important to remember the struggles we went through to give rights to those who had no voice. Instead of going backward, we need to move forward and the Civil Rights Garden and help educate through historical exhibits so we stop making those same mistakes.

49. Our great state is one of the most developed in the country. Unfortunately, this hurts local ecosystems, so places like the Stainton Wildlife Refuge are more important than ever so we can keep a safe place for local wildlife to flourish.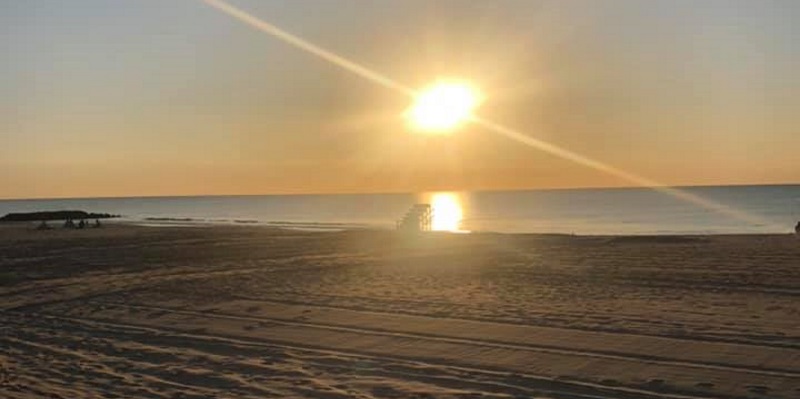 50. You can now tour the famous house that the cast and crew of MTV's Jersey Shore lived in while filming the show. Located right in Seaside Heights you can see this house that became a landmark of the town.

51. Take a trolly tour from Cape May Harbor all the way to the beautiful Sunset Beach while learning about the history of Cape May.

52. Fox Park is a really cool location to spend a day. Not only is it a park with tennis courts and a baseball field but it also houses a Music Museum. 53. Take a scenic walk on Sunset Beach one of the most popular beaches in Cape May County that offers some of the most beautiful sunsets on the Coast.

54. Take a tour on one of the five vintage tram cars that cruise up and down on sightseeing tours of the Wildwood Boardwalk. 55. Go on a tour of the Hereford Inlet Lighthouse. This 18th-century lighthouse has a rich history with deep roots in maritime history when it was the brightest point for sailors to navigate by in Hereford.

56. The Stephen Crane House in Asbury has been converted to a museum that showcases literary events in the author's former house.

57. One of the first things people do when they visit the beach is trying to find unique and beautiful geometric seashells. The Seashell Museum has on display some of the most beautiful found in Ocean City.

58. This awesome tour is guided by a local public historian or you can do a lol fashioned pop or pub crawl with Jersey Shore Tours.

59. Cattus Island County Park is a perfect location for a fun day of hiking and taking in the natural wonder of the local flora and fauna. Great for the whole family or just you and your favorite fur baby.

60. To be sure not to repeat history it's important to learn from it. The New Jersey Korean War Memorial is the perfect place to educate yourself and honor those who gave their lives in the pursuit of freedom.

61. After a day of gambling at one of the many casinos in Atlantic City unwind by watching aquatic wildlife at the Atlantic City Aquarium.

62. Ocean City has a rich history. Stop by The Ocean City Historical Museum to check out artifacts from times past as well as an ever-changing line up of exhibits.

63. For the best waterside view of Point Pleasant and Manasquan, you have to visit Loughran Point. Located right on the inlet it offers breathtaking views, especially at night.

67. Who doesn't love classic cars? The Vintage Automobile Museum of New Jersey has one of the coolest collections of cars from throughout history.

68. The National Guard Militia Museum in Manasquan showcases the history of those sworn to protect us right at home. With exhibits like weapons used throughout New Jerseys history and artifacts that span our state's lifetime its a great way to get perspective and appreciate those who enlist.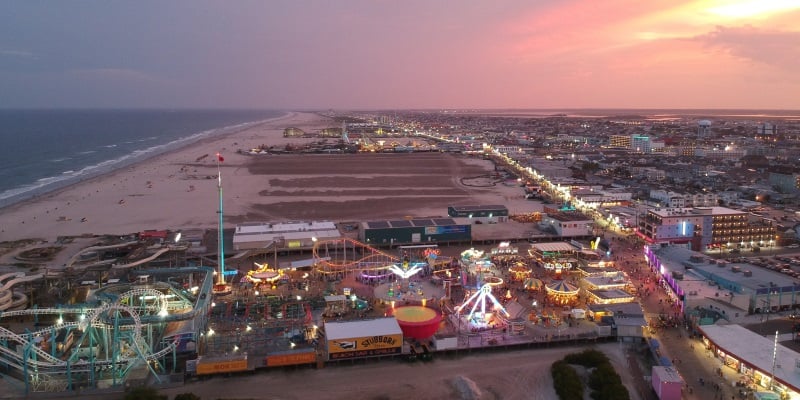 Attractions


69. Visit the Museum of New Jersey Maritime History and learn about antique navigational equipment and check out some really interesting artifacts and exhibits that showcase New Jersey's rich maritime history.

70. One of my personal favorite activities is glass blowing. The whole process is amazing from start to finish. At Hot Sand, you can learn how to make intricate glass objects in a safe environment.

71. The Asbury Splash Park is a great idea for a day out with the kids. Especially on a hot summer day. With tons of slides and other various waterworks, you and your family are sure to have a great time.

72. If you are looking for a spooky and unique miniature golf experience Haunted Golf is the perfect stop of 18 holes with a truly creepy ambiance.

73. The Wild West Casino is a fun change of pace from the grind of more traditional casinos in Atlantic City. With multiple bars and live music nighty, it is always sure to be a fun time.

74. If you wanna play some video games and drive go karts, the Lucky Snake in Atlantic City is right on the boardwalk overlookin the Atlantic Ocean.

75. Pinball is about is a staple of any boardwalk arcade. At Silverball Pinball Museum you can play some classic pinball machines as well as new ones and don't forget ski ball!

76. Test your gaming skills at one of the numerous arcades that line almost every boardwalk in New Jersey. To make it easy to find the best ones we put together a list of our personal favorites.

77. Hit the green and go miniature golfing! Some of the best mini golf courses are on New Jersey's boardwalks. Here are the best courses we have found.

78. South Beach Arcade is a great place to meet new friends and play awesome arcade games. Some of my fondest childhood memories of visiting Point Pleasant come from this place.

79. Visit Lucy the Elephant. this six-story wooden elephant is a famous staple of the Jersey Shore and its size is incredibly impressive.
80. Have a blast at Ocean Citys oldest amusement park. Playland's Castaway Cove is located right on the boardwalk and has been in operation for over 50 years!

81. You better break out your change jar because you are going to burn through your quarters playing some of the best arcade machines at Jilly's Arcade.

82. Check out the famous Cape May Lighthouse and catch a glimpse of a stunning 360-degree panoramic view while learning the history of this awesome landmark.

83. Escape rooms are all the rage and Escape Atlantic City is one of the best. Featuring challenging puzzles it will tax you and your friend's problem-solving skills while you have a ton of fun.

84. Go on a Salt Marsh Safari on the pontoon boat The Skimmer and see some of the unique wildlife that makes up this delicate ecosystem.

85. The Breakers Hotel in Spring Lake is the perfect place to stay and relax while visiting the shore while watching the ocean roll in from their gorgeous wrap around porch.

86. If you are visiting Ocean County and want to hit up and awesome beach Island Beach State Park is the place for you. With 10 miles of immaculate beach that you can park your trucks on its the perfect getaway location.

87. For vintage vibe in a hotel Daddy O in LBI is a unique lodging experience that has three bars including a rooftop one.

88. Channel your inner yar matie at Pirate Island Golf. This awesome pirate-themed miniature golf course in Avalon that sports an awesome waterfall and suspension bridges.

89. Take a relaxing ride on the Ferris wheel and take in the sights from up high at Long Beach Islands Fantasy Island.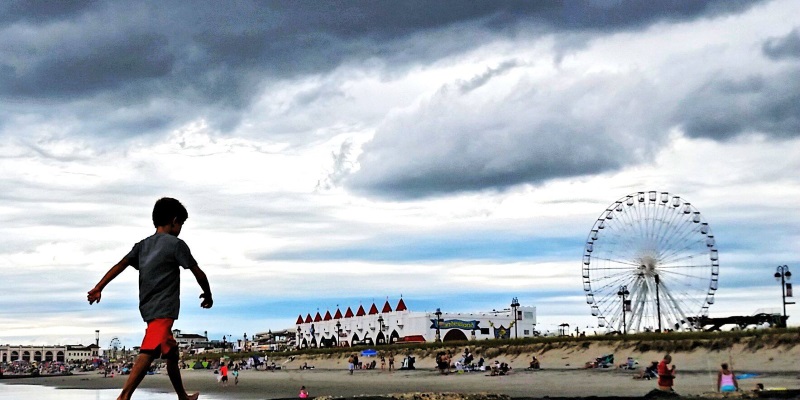 90. Alpacas are really cool animals and at Jersey Shore Alpacas you and your kids can get close and personal with them. Learning about these cool animals and you might even get to hug one if you ask nice enough.

91. Gunnison Beach located in Sandy Hook lets you fly free. Meaning you don't have to wear any clothing! " Oh, won't you fly high oh free bird yeah!"

92. One of the newest casinos in New Jersey is also one of the coolest and most unique in Atlantic City. Come see why everyone is talking about the Hard Rock.

93. Formally a produce farm Willow Creek Winery has turned this awesomely fertile land into a sprawling 40-acre vineyard that makes amazing wine.

94. The Seaport Museum in Wildwood is a great place to stop by while walking the boardwalk to see tons of cool fish and even a few sharks.

95. Get your vintage on at The Original Old-Time Photo. Sepia and black and white photos of you dressed up as a cowboy or a 20's gangster look legitimately like they were taken throughout historical time periods.

96. Nothing is better than a waterpark on a hot summer day. Keep yourself cool while riding some of the coolest waterslides in New Jersey at the Splash Zone Waterpark.

97. Paranormal Books and Curiosities is one of the coolest shops in Asbury Park. With tons of creepy things to check out and buy its, a must-stop if you are visiting AP.

98. Shopping for that perfect antique and finding it is a rewarding experience when you actually do find that gorgeously crafted piece for your home. The Antique Emporium of Asbury Park has tons of handcrafted antiques to help you with your search.
Events

99. Go to one of the many Wildwood Summer Events. The best part about these events is that most are free so you don't have to break the bank to have a great time. 100. Catch a show at the famous Stone Pony in Asbury Park. During the summer they set up a huge outdoor stage right on the beach. You can even find tickets for your favorite bands right on our website.

101. Every Thursday you can catch a free concert in Avalon New Jersey right on the dune. Be sure to check the schedule for upcoming acts.

102. The Ocean City Music Pier was opened in 1929 and has been providing a cozy environment for the arts and music in Ocean City ever since.

103. If you are looking for a place to enjoy live music almost nightly in a really cool modern environment that serves great food and drinks Langosta Lounge in Asbury Park is the perfect place.



Find More The Very Best Things to do Down the Shore
If you don't settle for anything less, then you might need to explore the best things to do at the shore from sports to relaxing and educational tours. They have been approved by visitors who keep coming back for more!