46 Crème De la Crème (Best) & Most Appetizing Restaurants to Check Out in Central, NJ.
With such a diverse population in Central New Jersey, and with so many great eateries that are putting a spotlight on the local ethnicities, it's easy to find the perfect place to eat. If you are looking for quality authentic Indian food, then little India in Edison is surely a great place to start. Looking for amazing Korean food? New Brunswick boasts two awesome small modest (almost unknown) choices, Chung Sol Bat and My Way Korean Restaurant. With all of the awesome options in Red Bank and Asbury, you are sure to find something to satisfy any pallet. There are hundreds of restaurants in the central region of NJ that we've scoured through to find you the best. So, grab your fork and knife and dive into our inclusive list of the top restaurants in Central, New Jersey right now.
Looking for More Enticing Places to Eat in Central New Jersey? We Got You.
Catch 19 Is the Perfect Place in Red Bank for Date Night or to Just Grab a Drink and Relax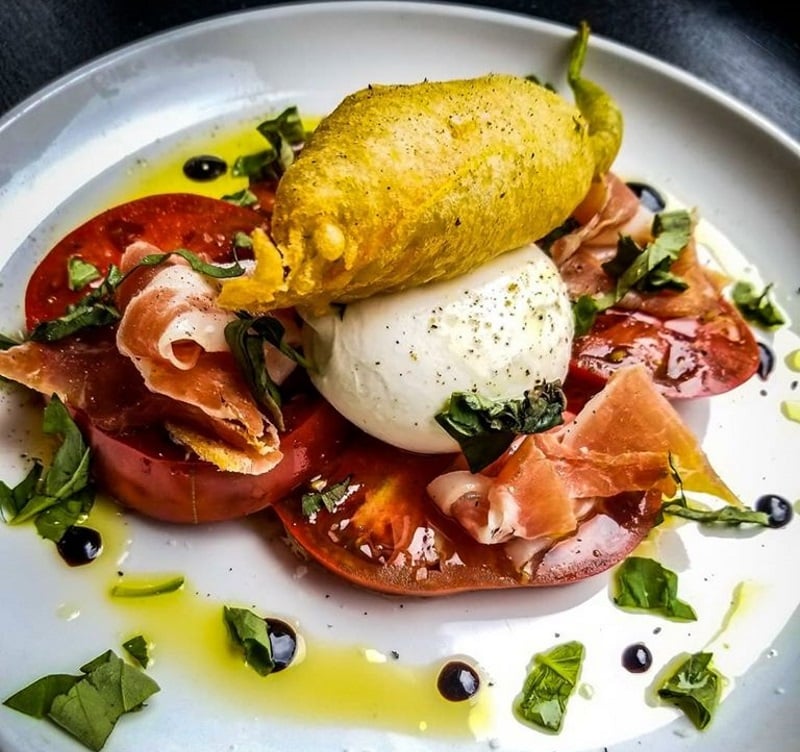 Catch 19 is the premier restaurant in Central NJ. Located in the heart of downtown Red Bank Catch 19 serves everything from savory seafood dishes to the steak that just melts in your mouth and much more. If you are looking for a great night out and delicious food this is the place to go. We handpicked this restaurant because it is hands down one of the best places to go in the area and a dining experience you won't forget.
Awesome Options for a Delicious Meal
Sahara - Sahara Restaurant, located in New Brunswick, NJ, offers a wide variety of Mediterranean dishes, including those with traditional flavors and preparations and some with a modern flare. With entrees as well-known as chicken kebabs, braised beef short ribs and lamb shank taking their place on the menu alongside less common dishes such as couscous vegetable stew, mucver, and shish kebabs, everyone will be able to find a meal they'll enjoy. If you dine at Sahara Restaurant and like their food so much you want them to cater your next party, call this Central NJ restaurant at 732-246-3020. When they cater an event for you, they bring all of their classic Mediterranean dishes to you! Beginning each event with a cold appetizer, you will be able to choose between three house favorites. Additionally, they offer you your choice of Adana kebabs, chicken kebabs or white or red rice as a main course. All of this, paired with a salad and a decadent dessert further exemplifies to your friends, family, and coworkers why Sahara Restaurant is the best Mediterranean restaurant in Central NJ.
Saigon - Serving fresh and healthy Vietnamese food to all of their patrons on a regular basis, Saigon Cuisine of South Plainfield, NJ is the restaurant to visit if you are looking for an authentic meal. Their menu consists of traditional items such as mi xao don do bien, pho ga dishes, bun specialties and much more. All of their selections are made with traditional ingredients and ingredients that are not only fresh but also commonly used in Vietnam, making this some of the most authentic Vietnamese cuisine you can have in Central NJ. In addition to their traditionally prepared and authentic meals, customers can order a number of Bubble Tea drinks at this establishment. These deliciously unique drinks only add to the popularity of this Central NJ restaurant because of they, much like the food platters, provide you with a flavorful taste that cannot be compared to other experiences.
Soul Kitchen Community Restaurant- If you are from NJ, you know who Jon Bon Jovi is. Wanting to make an impact on the Central NJ community, Jovi opened Soul Kitchen Community Restaurant, an establishment where patrons can enjoy a classic American meal for only the cash donation of their choosing. As a nonprofit restaurant in the Central NJ area, the Jon Bon Jovi requests that all patrons who can pay for their meals make a donation of $10. This minimal fee covers the cost of all meals and guarantees that others can be provided with high quality and delicious food. For those guests who are facing hard times and are unable to pay the $10 donation for their meal, they can volunteer in the Central NJ dining establishment as a means of payment. To learn more about Soul Kitchen Community Restaurant, or to make your reservation, click here.
Algarve - Algarve Restaurant in Elizabeth, NJ offers high quality and delicious Portuguese BBQ cuisine. They pride themselves on only using fresh ingredients, providing their patrons with a healthier alternative to dining out. They offer both dine-in and take out options where you can choose meals ranging from calamari, clams, and Caesar salad all the way to frog legs, rack of lamb and Chilean sea bass. Additionally, everyone in the family will be able to find a dish they love at this Central NJ Portuguese restaurant because their menu categories are vast and expansive. More than just classic appetizers, salads and soups, Algarve Restaurant offers a great selection of beef, lamb and poultry dishes. Each meal is infused with classic Portuguese flavors, making your taste buds go wild. It is food like you have never tasted before and you will certainly want to return time and time again.
David Burke Fromagerie - David Burke Fromagerie of Rumson, NJ prides itself on serving upscale American dishes that make their patron's mouths water. Elegantly prepared dishes such as braised rabbit, roasted Atlantic salmon, and filet mignon can always be found on their dinner menu. Additionally, this upscale Central NJ restaurant offers burgers every Tuesday night. On these nights you will be given the chance to order from a variety of burger options and add sides such as truffle fries, smoked beef fat and jalapeno fries or even maple bacon! Adding to the ambiance of the restaurant is the regularly held live music events every Tuesday night. As you sit at your table, or the bar, enjoying your specialty burger or entree, you will be given the chance to see local artists perform live. This restaurant is one of the most fun and lively places you can head to if you want to dine out in Central NJ. The great food, awesome drinks available at the bar and lively atmosphere will leave you wanting to return with another group of friends on another night
Moonstruck - Serving meals inspired by both American and Mediterranean flavors, your dining experience at Moonstruck in Asbury Park, NJ is sure to open your world up to a new culinary world. Their menu, consisting of items such as sesame seared tuna, Asian grilled shrimp, pan-roasted chicken breasts and even tuna or salmon steaks, is sure to have something for everyone in the group to enjoy. Although the menu contains numerous steak and seafood options, their chicken dishes do not lack in flavor or presentation. All of their dishes contain flavor combinations that are inspired by the Mediterranean and whether you are ordering raspberry chicken or grilled salmon, your taste buds will be hit with seasonings and spices making another bite mandatory. If you happen to be dining at Moonstruck during the fishing season, you will be given the opportunity to try local favorites such as seafood stew, chilled octopus salad or even seared shrimp and scallops.
A Toute Heure - A Toute Heure, a well-known Cranford, NJ restaurant serving delicious American cuisine, is the restaurant to visit if you are searching for a comfortable, neighborhood-style environment to dine in. This Central NJ bistro wants their guests to feel relaxed and at home when they dine so, while they advertise a smart casual dress code, it is not strictly enforced. The restaurant is open for lunch Tuesdays - Fridays, and dinner Tuesdays - Saturdays. They also offer brunch the last Sunday of every month and a special menu on the second Saturday of each month. Although they are known for serving delicious muscle pots, this Central NJ bistro also serves delicious chicken, pork, steak, and vegetarian dishes. All of their ingredients are fresh and sourced from local farms, ensuring that you get the best meal possible. For further information, or if you would like to provide A Toute Heure with feedback, email them at [email protected].
Orchid Glatt Kosher Restaurant - Wanting to provide Middlesex County NJ residents with a kosher dining establishment that prepares exceptional food, Orchid Glatt Kosher Restaurant was one of the firs kosher restaurants to grace the streets of Central NJ. Serving everything from couscous salads, Kubbe mushrooms and lentil chutney to pastrami and chopped liver sandwiches, turkey breast open sandwiches and meatloaf, everyone is able to find something they love. The key to the restaurant's success in keeping kosher is their Kosher Supervision. They are regularly monitored by Star-K, a leading kosher certification organization that ensures food is not contaminated. This Central NJ restaurant serves lunch and dinner every Sunday through Friday, but are closed on Saturdays.
Boulevard Five 72 - Located in the heart of Kenilworth, Boulevard Five 72 is an upscale dining restaurant that serves the best New American food Central NJ could ask for. The atmosphere in the restaurant is fresh, sophisticated and welcoming. As you sit amongst your group of friends, family or your significant other, you will be able to take in the refreshing environment and friendly vibe. The restaurant is open for brunch and dinner on Sundays and lunch and dinner daily. Their menu consists of favorites such as seafood risotto, veal chops and even lamb chops with brunch favorites such as French toast, buttermilk pancakes and breakfast burritos available during those designated hours. If you are looking to have a party catered, Boulevard Five 72 is the restaurant of choice for the Central NJ area because they will provide you not only with a number of great menus, but also a beautiful banquet room in which you can host your event.

Steakhouse 85 - Steakhouse 85 is one of Central NJ's most upscale, and most popular, steakhouses. They serve gourmet-quality food and always deliver the best customer service, answering patron questions and welcoming feedback from guests. They feature an elegant menu with a classic surf and turf option where you will be served an 8 oz. prime Angus filet mignon paired with a 6 oz. cold water lobster tail as well as numerous meat and other seafood platters. Whether you are looking for sirloin steak, ribeye, rib or pork chops or even crab cakes or shrimp, Steakhouse 85 has what you are looking for and guarantees that it will be prepared to perfection each and every time. Additionally, this Central NJ steakhouse has an extensive wine list where you can find bottles from countries such as Italy, France, Australia and, of course, the US.
La Dolce Vita - As one of Central NJ's most elegant Italian seafood restaurants, La Dolce Vita in Belmar serves expertly prepared meals that will leave you wanting more. Their Italian seafood grill items include gamberoni ai scampi, sapore di mare, Billy's seafood risotto and even zuppa di pesce. If you are not a fan of seafood, La Dolce Vita also offers traditional steak, chicken, veal and even lamb options, all prepared with an Italian twist and the finest ingredients. Additionally, this unique Italian seafood restaurant along the Central NJ Shore has a wine and martini list that will leave you breathless. You will be given the chance to choose bottles of the best wines from Italy, Germany, France, and even Chile or order an expertly prepared martini made by a trained bartender. Call La Dolce Vita at 732-749-3177 for more information about the restaurant, their services, and reservations.
Dine-in Style!
If you are looking for a night out of town why don't you check out our extensive list of all the Top Restaurants in NJ for the perfect night out in any town.
And If you have a favorite place to eat we missed we would love to hear from you.
Call us at 732-298-6015 or contact us online.