See our All New Jersey Shore Limo Tours
Click Here
JERSEY SHORE LIMO TOURS
See The Jersey Shore Like Never Before
SIGHTSEEING TOURSROMANTIC TOURSBAR CRAWLS!

All Tours Are 6 Hours in Duration!
Let's Take a Ride on the Wild Side!
Complete List of the Best Fun Theme Parks and Amusement Parks in NJ to Explore
Here are some reviews and thoughts about the 21 amusement parks in NJ. How many of these action-packed amusement and theme parks have you experienced? This is your connection to find some fun theme parks where you can zoom on the thrill rides or just simply stroll along one of New Jersey's many famous boardwalks and piers that are filled with rides, arcades, and amusements. NJ is also home to many smaller exciting indoor amusement centers. We've listed them here as well. Click the play buttons below to see videos of every theme park!
Here is The Most Unique Amusement Park in NJ!
Field Station Dinosaurs!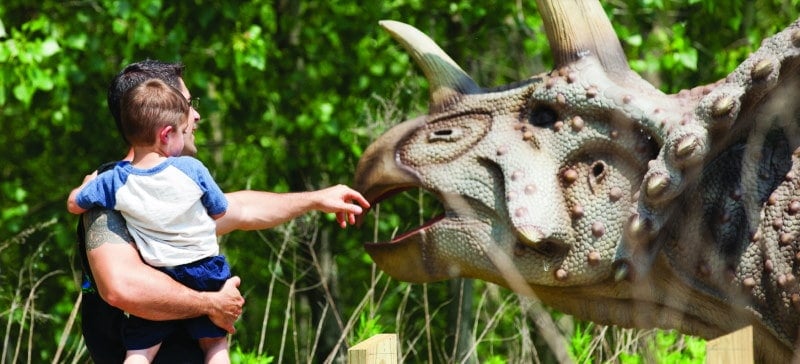 There are some that might not consider Field Station Dinosaurs a conventional amusement or theme park, but we feel that it is a wonderful off-the-beaten-path utterly unique attraction that offers an exciting hands-on experience for families. Hence, we have listed it here as one of the most unique amusement parks, not just in NJ but on the entire East Coast!
There are over 30 exciting educational live shows, fun games, life-size dinosaurs, and activities for children to explore.
Field Station Dinosaurs
Overpeck County Park | Henry Hoebel Area
Fort Lee Road, Leonia, NJ 07605
855-999-9010
Best Wooden Roller Coasters in NJ
The Great White at Morey's Piers!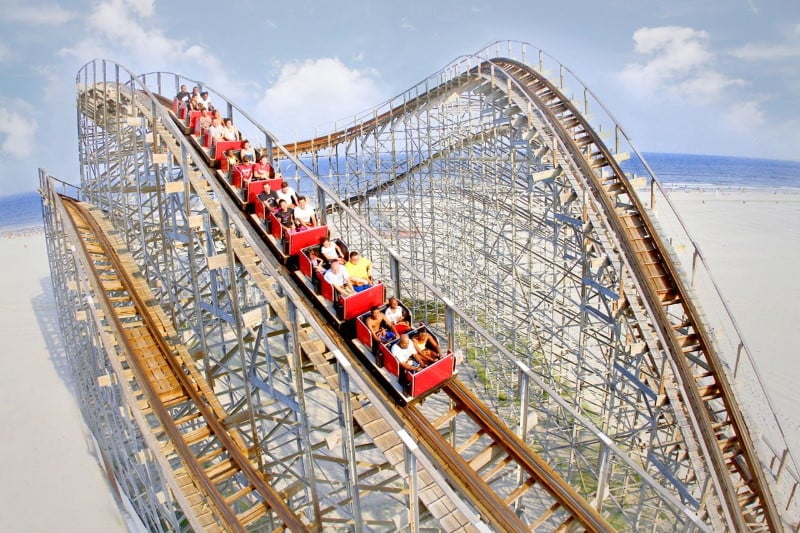 A classic wooden roller coaster with a tremendous 105 drop at speeds of over 50 MPH. On the beach with the Atlantic Ocean in the backdrop. Perfection!
Here are our top picks of the best wooden coasters


1. El Toro | Great Adventure



2. Great White | Moreys Piers



3. Hellcat | Clementon Park


What is the Fastest Monorail Roller Coaster in NJ (and the World)?
The NJ Devil!

Coming in 2020
The tallest, fastest, and longest single-rail roller coaster!
13 stories high
87-foot drop
180 degrees inversions
Zero-G roll
Inline single passenger riders on a thin monorail track
Speeds up to 60 MPH
Over 3000 feet of track (That's over 10 football fields long!)
Frequently asked questions
What is the best amusement park in NJ for younger kids?
Jenkinson's Boardwalk in Point Pleasant, Storybook Land in Egg Harbor Township and the Land of Make Believe in Hope NJ are all good choices. The all-new Nickelodeon Universe at the American Dream mall in East Rutherford, NJ is also a great choice for families with younger children.


What is the cleanest amusement park?
All parks desire to be the cleanest amusement park of all but The Holiday World has been chosen by www.indystar.com as the cleanest park in the entire world (since the invention of the iPhone). Also, according to Amusement Today magazine, Holiday World & Splashin' Safari which is located in Santa Claus, Indiana theme park was voted "cleanest park in the world" for the 19th consecutive year.


Which state has the best amusement parks?
The most renowned states for the best amusement parks are California, Florida, and Orlando. Orlando is known as the Theme Park Capital of the world. Let us not forget New Jersey which, is home to over 15 amusement parks (both big and small), including the behemoth Six Flags Great Adventure.


What is the most visited theme park in the US?
According to one survey, approx. 20.96 million people visited The Magic Kingdom Theme Park at Walt Disney World Resort in 2019. Magic Kingdom is in Bay Lake, Florida which is located near Orlando Florida.


What is the best day to go to an amusement park?
Weekends are the busiest days but Saturdays are more crowded. Because of Monday's being the working day there is bit less load on Sundays. Otherwise, it would be worse. Working days are the least crowded in the entire week.


What amusement parks do most New Yorkers like to go to?
Luna Park in Coney Island is one of the world's most famous theme parks and is one of the most visited theme parks in the NYC area. For New Yorkers that live upstate Six Flags, Darien Lake is a very popular choice.
Find More Amusements for Kids
Find more kids attractions and fun destinations in NJ