See our All New Jersey Shore Limo Tours
Click Here
JERSEY SHORE LIMO TOURS
See The Jersey Shore Like Never Before
SIGHTSEEING TOURSROMANTIC TOURSBAR CRAWLS!

All Tours Are 6 Hours in Duration!
Let's Take a Ride on the Wild Side!
Fun Aquariums and Fish Related Attractions in NJ!
Kids adore dolphins. We know that. But we are pretty sure that they will be interested in all kinds of aquatic marine life if they were able to see different kinds of fish, seals, penguins, and turtles up close and personal. Aquariums are unique in that there are not really that many of them. Go out today and take the kids to a local wholesome interactive aquatic family fun center! Many NJ aquariums host seasonal events and attractions, so be sure to check back often!
New Jersey's Educational Aquatic Attractions, Institutes, and Fish Hatcheries

While New Jersey is the 4th smallest U.S. state, it has a large population (11th most populated state among the 50 states). It has a glorious history of ethnicity, war, gardening, industrial revolutions, marine, and coastal life.

Geographically it is situated in the Northeastern United States of the Mid-Atlantic zone.

It is bordered on the north and northeast by New York, to the east and south by the Atlantic Ocean, and the west by Delaware and Pennsylvania.

The name New Jersey has come from the Island of the English Channel Jersey. Trenton is our capital city.

Apart from the revolutionary battlefield of war, our lighthouses, our many villages nostalgic of days gone by, or technological pioneers, there is something for all to experience and enjoy in the sea life of New Jersey.

New Jersey's coastal zone boundary comprises of about 1,800 miles of tidal coastline, including 126 miles from Sandy Hook to Cape May along the Atlantic Oceanfront.


This huge line imposes a great impact on New Jersey's people's lives and livelihoods.

You'll find it's a perfect source of educational attractions for your kids as well as veteran ocean-related researchers.

Summer is calling, so it's a great time to head out and enjoy some of the most diversified New Jersey's unique moments of marine life.
Seeing Humpback Whales off the coast of NJ is a magnificent one-of-a-kind-experience

If you're sailing on a boat through the Atlantic Ocean of New Jersey, you'll be able to see the most spectacular and largest Humpback whale species, if your luck is on your side, that is!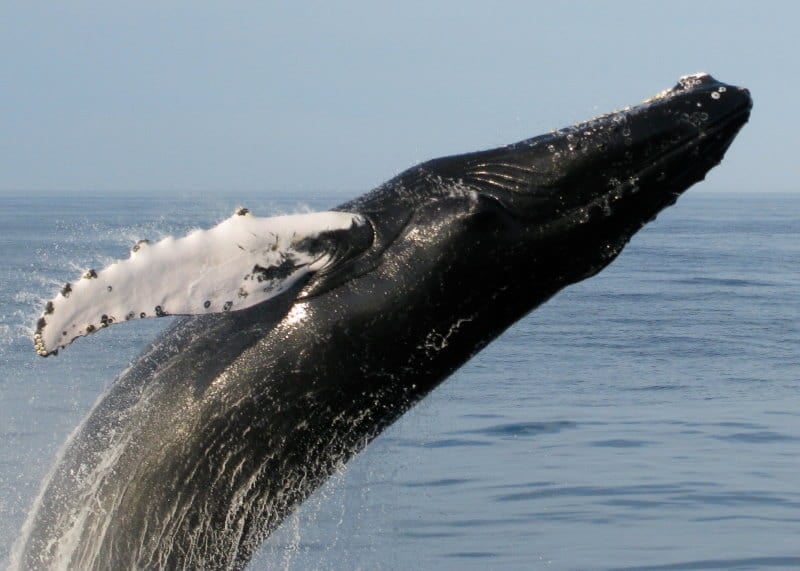 Image source: flickr.com, Pat Hawks
Book a whale-watching tour in Belmar. Or see more places to go Whale watching in NJ.

If you don't get a chance to see a live Whale or Bottlenose Dolphin, there is no need to be disappointed. A Black Skimmer may just be waiting to greet you!

Black Skimmers are long-winged birds that live on our coastal waters. For nesting purposes, they migrated from Mexico, the Caribbean, and northern South America to the Atlantic shore in the summer.


Loggerhead sea turtles & Northern Diamondback Terrapins

Warning—turtle crossing! Loggerheads are the most common sea turtles on the shores of NJ.


Northern diamondback terrapins are truly stunning turtles.

Northern diamondback terrapins are found primarily in the coastal salt marshes where there is a mix of freshwater and seawater.

They are the world's only terrapin that can inhabit brackish water-a mixture of salt and freshwater.

You can find them in New Jersey's brackish marshes — specifically along Little Egg Harbor "Seven Bridges Road" or Great Bay Boulevard.


Crabs

Besides, horseshoe crabs – living fossils are thought to be about 400 million years old – twice as old as any dinosaur roaming the earth. Sand crabs or mole crabs or sand fleas – are the smallest members of the crab family.

Birds

Ospreys – birds that change their color of eyes from red to orange to yellow along with their age. Red knot – traveling the longest migrations roads - 9000 miles in a year. Harbor Seal – the cutest animal on the list. And last but not least, Seagull


A tour of the NJ coastline will remain unfinished, without seeing these New Jersey birds.

Most of the aquatic life discussed above is endangered due to human-induced unnecessary disturbance. So, please show respect for all marine life throughout the journey to preserve the ecosystem's balance and to save our world.

For the marine life enthusiast who wants to learn more, we love sharing some attraction points below. Let's dive in.
The Ocean Institute at Brookdale Community College
Brookdale Community College was established in July 1967 by the Monmouth County Board of Chosen Freeholders, who purchased the Brookdale Farm from Lewis S. Thompson Jr. in the following year.
The Monmouth County Board founded this community college intending to provide educational, cultural, and professional lineups and assistance to allow, empower, and inspire all New Jersey community members to fulfill their aspirations to the best of their ability.

Brookdale's Ocean Institute is one of Brookdale Community College's most successful educational facilities with an outstanding and real marine life system.

It has many exciting programs for New Jersey K-12 school students and summer campers carrying on their national park.


The shy egret, the magnificent osprey, the Limulus, the resilient horseshoe crab, and the rare pipefish are just a few of the many species waiting to share Sandy Hook's historical and ecological past with your students.

Let's go through some of the exciting adventure packages of Brookdale's Ocean Institute as below.

Coastal Creatures


This is a very interesting 90-minute tour, where students can explore the bay from its edge – its physical conditions, marine life, and land-sea interrelationships.

They also get opportunities to use seining nets to gather, observe, and safely return a variety of coastal creatures to their homes.

A variety of fish such as crustaceans, mollusks, algae, and even seahorses are potential catches that will surprise your students and inspire them.

Shell Hunting

It's an hour's stroll around a shoreline to discover shells, bird sightings, and other signs of marine life.

This includes a "shell dialog" on the types of local shells and the environmental role of the creatures in making those shells.
The Pequest Trout Hatchery and Natural Resource Education Center

You will get a glimpse of history and nature's coexistence with humanity at Brookdale's Ocean Institute. The Pequest let you learn about the lifecycle and hatching system of trout, and wildlife conservation along with presenting the enchanting natural scenario.


In 1981, through the conversion of Charles O. Hayford Hatchery, the Pequest Trout Hatchery and Natural Resource Education Center was established. This state-owned hatchery and environmental education center produce up to 7 million trout per annum for storage in New Jersey's public waters.

Pequest is open year-round for visitation. However, the best time to see the hatchery is when all areas of the facility are in operation from October to May.


Once you visit the Pequest Trout Hatchery, you can learn about a variety of natural resources-from fishing to forestry-with the goal of developing the behaviors and skills necessary to become wildlife and natural resource leaders.


Pequest has organized numerous educational activities year-round for groups of all ages. In the summer, it provides training for families, scouts, and other organizations on trout and wildlife conservation at its annual Open House and other public activities and programs.


For more detailed information about their programs please visit- https://www.njfishandwildlife.com/pequest.htm
Marine Mammal Stranding Center
Even after going through the video above, it is just not enough to get a real glimpse of what the Marine Mammal Stranding Center does to help local marine life here in NJ.

This is a great institution that has continued its service to save stranded animals for the last 40 years.

They have been able to save over 5,500 stranded whales, dolphins, seals, and sea turtles that have been washed ashore in New Jersey during this period.


Throughout the year, the Marine Mammal Stranding Center offers diverse educational programs and events. Some of the popular educational curricula are:


Outreach program
Summer Program
Marine species


Outreach program

MMSC reached straight into the classroom in the outreach program! With these hands-on, interactive presentations, students come to learn about:


Marine mammals and sea turtles' mysterious lives
The problems faced by the creatures, and their impacts on the entire marine environment
The role of the MMSC in overcoming these issues
What can every student do to help?


Summer Program

The summer program is specifically designed for a family to learn about marine life, how to stranding, how to seining, etc. All you can learn privately with close supervision of MMSC's professional guides. Within this curriculum, you'll get hands-on experiences for practical fun.

Marine species

You will learn about different species of Atlantic sea, such as:


Minke Whale

Humpback Whales

Bottlenose Dolphin

Spotted Dolphin

White-Sided Dolphin

Beluga

California Sea Lion

Harbor Seal

Green Turtle

Kemp's RidleyTurtlee
MMSC will also be organizing numerous activities to raise funds for them.


Visit their website to keep yourself updated about their courses and events.
New Jersey Sea Life Aquarium

Imagine for a second that you were transposed through a city under the sea. Well, that is exactly what happens at the New Jersey Sea Life Aquarium.

If you visit the Aquarium, one thing we can promise you for sure is that it will be both an exciting and unforgettable incredible experience. One you will never forget!

If you want to live the experience of a lifetime, you must visit the New Jersey Sea Life Aquarium, which has recently opened alongside the LEGOLAND Discovery Center in New Jersey's American Dream!


In the marine life aquarium, you'll find out why the rock pool animals are the 'Athletes of the Seas,' why seahorses are the 'Ocean Ballet Dancers,' why jellies are the 'Disco DJs of the Water' and more.

Visit this link to learn more.
Get Listed With Us
If you have a cultural aquatic-related attraction and you don't see it listed here in this section, contact us today to get on board or call us at 732-298-6015.