20 Indoor and Outdoor Water Parks With Videos
Hmmm.. What to do on a blazing summer day to keep the kids engaged? Bring them to a water park of course! Refer below for trusted and safe water parks in NJ that offer a variety of fun features for children of all ages. Many have cool waterslides that will keep the kids entertained and more importantly out of your hair! Lather them up in SPF and send them off the water rides for a day of giggles and fun family memorable times! Updated 2-25-20. We are the only local site that lists every water park in NJ.
Water Parks in North Jersey - Water Parks in Central Jersey - Water Parks in South Jersey
Here is NJ's First Municipal Water Park Where Families Can Become Season Pass Holders

Crystal Springs Family Water Park in East Brunswick, NJ
This is a great water park for families in Central NJ. It is a very clean and relaxing facility. There are plenty of deck chairs, life vents, and tubes for the water rides. They have a concession stand as well as picnic areas equipped with grills so families can save money and have a BBQ.
---
Another Unique (Open to The Public) Membership-Only Facility

Frog Falls Water Park at the Picatinny Arsenal Military Base in Wharton, NJ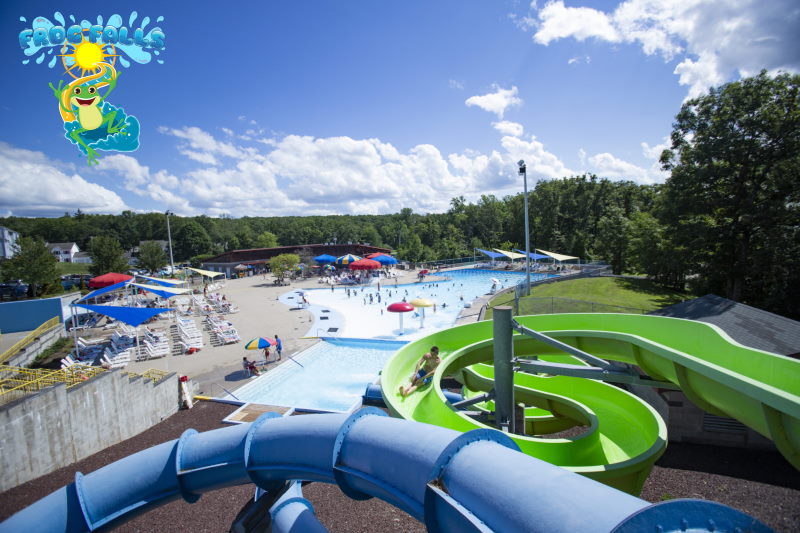 Frog Falls is an unknown off the beaten path gem. Not many people know that although it is a member-only water park, anyone can join as it is open to the general public. Families cost $525 per season and single memberships are just $360 per season. They have a grill and ice cream shop. Come join and float on the lazy river or slide down one of their fun water slides!
---
A Jersey Shore Water Park Day Trip Idea
OC Water Park in Ocean City, NJ
Before going to the Park
Get breakfast at the famous Uncle Bills Pancake House


While at the park
Do backflips on their air jumpers
Climb their 35' rock wall
Hit the Lazy River for an hour
Ride some slides
Play Mini Golf


After the Waterpark
Eat at Spadafora's Restaurant and Clam Bar
Or, eat some of the best pizza down the shore at Manco and Manco Pizza
---
For the Days Spent Inside
Be prepared for any type of weather thrown at you! We got you settled for a hot summer day, but for when the forecast is rain we have ideas that range all over New Jersey if you want to take a trip OR ones that you can do from home. P.S. -- It won't break the bank! Head over to: Rainy Day Activities for more information.