23 Indoor and Outdoor Water Parks in NJ With Videos
Hmmm.. What to do on a blazing summer day to keep the kids engaged? Bring them to a water park of course! Refer below for trusted and safe water parks in NJ that offer a variety of fun features for children of all ages. Many have cool waterslides that will keep the kids entertained and more importantly out of your hair! Lather them up in SPF and send them off the water rides for a day of giggles and fun family memorable times! Updated 7-2-20. We are the only local site that lists every single water park in NJ as well as aqua parks, hotel pools, public (and private) pools, as well as a complete history of ALL water-themed amusement parks that exist throughout the entire EAST COAST.
Water Parks in North Jersey - Water Parks in Central Jersey - Water Parks in South Jersey
The Quintessential Guide to Water Parks in NJ

Crystal Springs Family Water Park
Crystal Springs Resort is the perfect place to spend a family vacation. Not only does it have a water park, but it also has a spa and wellness center, a golf club, and a dining restaurant.

The water park consists of 8 super fun activities and slides, such as the Kiddie and Activity Pool, Lazy River, Lap Pool, Water Slides, Splash Pad, a Family Pool, and much more!

Their lockers are available for daily rentals, and the tables, as well as the grills, are available on a first-come, first-serve basis.

This resort is a smoking, alcohol consumption, and glass-free facility perfect for families to enjoy!

Location: 1 Wild Turkey Way, Hamburg, NJ 07419
Telephone: 1-973-862-4351
Website: crystalgolfresort.com
---
Montego Bay Resort
Having its indoor water park, the Montego Bay Resort is situated right up on the boardwalk in North Wildwood, New Jersey!

It features an enclosed and heated swimming pool, a Tiki bar, a recreational center, two big water slides, and so much more. You can enjoy a delicious drink at the Red Parrot Lounge or a delightful dinner at Adam's Restaurant.

Location: 1800 Boardwalk, North Wildwood, NJ 08260
Telephone: 609-523-1000
Website: montegobayresortnj.com
---
DreamWorks Water Park
The gargantuan DreamWorks Water Park is the largest indoor water park in North America, at 8.5 acres.
Its massive pool occupies 1.5 acres out of the 8.5 acres, which makes its largest indoor wave pool in the world!

It is a true 20th-century representation of THE most epic aqua park EVER in New Jersey soil (and on the entire planet!).

The park includes many slides and attractions, especially for kids, since it is themed after the DreamWorks Animation movies such as Kung Fu Panda, Toy Story, Madagascar, and many more!

It also includes the tallest water slides in the entire continent among indoors as well as outdoor water parks. The tallest ones being The Jungle Jammer and the Thrillagascar, coming at 142 Feet!

Location: 1 American Dream Way, East Rutherford, NJ 07073
Email: [email protected]
Website: americandream.com
Here is NJ's First Municipal Water Park Where Families Can Become Season Pass Holders

Crystal Springs Family Water Park in East Brunswick, NJ
This is a great water park for families in Central NJ. It is a very clean and relaxing facility. There are plenty of deck chairs, life vents, and tubes for the water rides.

They have a concession stand as well as picnic areas equipped with grills so families can save money and have a BBQ.
---
Another Unique (Open to The Public) Membership-Only Facility

Frog Falls Water Park at the Picatinny Arsenal Military Base in Wharton, NJ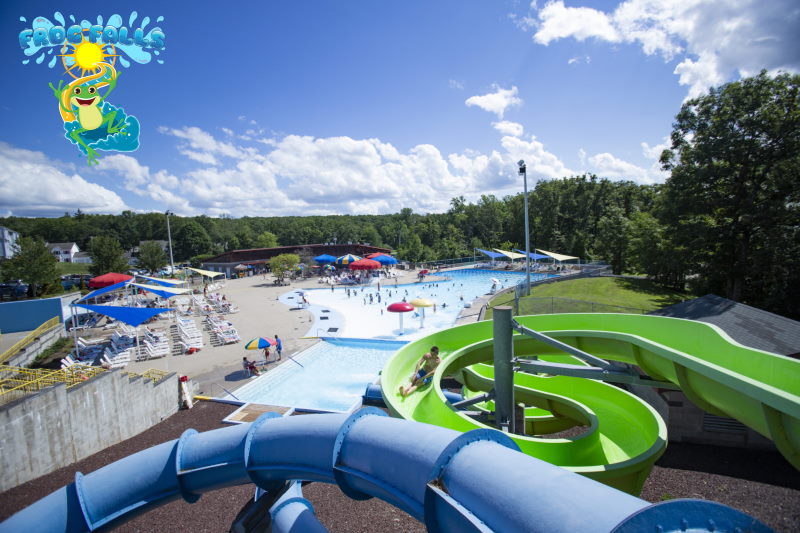 Frog Falls is an unknown off the beaten path gem. Not many people know that although it is a member-only water park, anyone can join as it is open to the general public. Families cost $525 per season and single memberships are just $360 per season. They have a grill and ice cream shop. Come join and float on the lazy river or slide down one of their fun water slides!
---
A Jersey Shore Water Park Day Trip Idea
OC Water Park in Ocean City, NJ
Before going to the Park
Get breakfast at the famous Uncle Bills Pancake House


While at the park
Do backflips on their air jumpers
Climb their 35' rock wall
Hit the Lazy River for an hour
Ride some slides
Play Mini Golf


After the Waterpark
Eat at Spadafora's Restaurant and Clam Bar
Or, eat some of the best pizza down the shore at Manco and Manco Pizza
---
Hotels in NJ with the best indoor swimming pools

Are you looking for the best hotels in New Jersey with the best indoor swimming pools? Here are our choices of the top 5!

1. WYNDHAM
Hamilton Park Hotel and Conference Center- WYNDHAM might just be the place that you are looking for. If you want to experience the New Jersey charms of the small town you should consider booking this place.

One of the best things about this hotel is that it is located only a few minutes away from Tthe Newark International Airport. Not only that, but it is also very close to the historic Morristown. WYNDHAM Hamilton Park Hotel also offers free Wi-Fi. You can check-in at 4 pm and check-out at 11 am.

The Wyndham has both, indoor and outdoor swimming pools. There is free parking available, and there is also a jogging track. Since you are looking for a hotel with the best indoor swimming pool, this might be the best option.
---
2. Hilton Hotels and Resorts
Hilton Hotel is located amid 21 acres of landscaped grounds. It is situated very next to Tice's Corner Marketplace.

The hotel has an amazing indoor pool.

The stay also includes an on-site restaurant and non-smoking rooms.

Just like WYNDHAM, this hotel has an outdoor pool as well. The facilities do not just end there! The stay includes a fitness center and free parking too.

If you want a great and memorable experience with having access to pools, this Hilton is a good choice.

The hotel is only 45 minutes on the Garden State Parkway to New York City.

The Hilton Hotel also features sports courts, including an outstanding tennis court.

You can spend time at their Infinina Spa.
---
3. Sheraton Parsippany Hotel
If you are looking for a hotel that is close to both the Newark airport, as well as New York City, The Sheraton Parsippany is an ideal choice.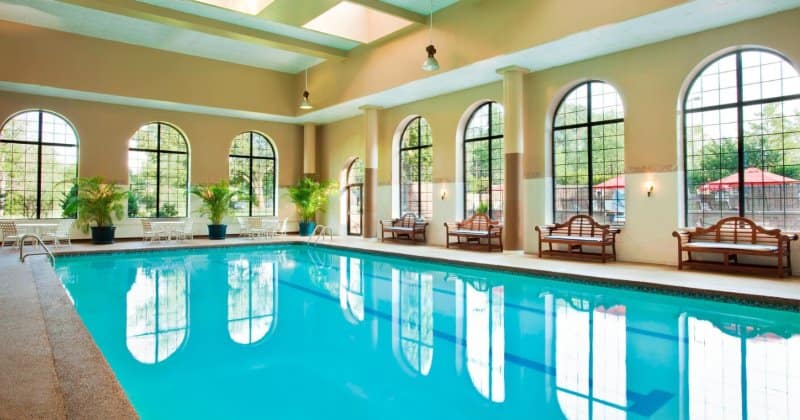 Sheraton Parsippany Hotel is only 30 minutes away from both.

The hotel offers many fine facilities and amenities.

An ideal choice for both, leisure travelers, as well as business travelers.

The hotel has a resort-like setting and a brilliant castle theme. The staff is very friendly, which makes the stay even more warm and cozy. The staff strives to make you feel right at home.
---
4. The Water Club at Borgata
The Water Club is another tower of the Borgata. The hotel has five pools- both indoors and outdoors.

We promise you that you will have an extravagant experience even if you only spend one night at this hotel.

The Water Club offers an amazing spa as well as cuisines made by renowned chef Geoffrey Zakarian. The Water Club gives its guests access to both, the casino and ocean.
---
5. Resorts Casino Hotel
This waterfront casino resort has a unique indoor/outdoor heated pool that offers beautiful views of the Atlantic Ocean. The element of heat allows guests to enjoy the pool regardless of the weather.

After taking a dip and having an early evening cordial, guests can dine at Capriccio, which is a highly regarded award-winning Italian restaurant in the area. The resort is also well known for the steaks and seafood served up at Gallagher's Steakhouse. Lastly, if you are a sushi lover, Mukashi prepares perfectly crafted traditional Sushi and Sashimi for its guests.
---
A Compilation of the Best Public Indoor Swimming Pools In NJ

You can find a plethora of indoor swimming pools and facilities all around New Jersey, where you can enjoy your summers with your friends and families.

Make sure that you contact the swimming pool facilities prior to making your visit to make sure their hours of operation are correct.


1. Debaun Aquatics Center
Castle Point on Hudson, Hoboken, NJ, 201-216-5590


This swimming pool is located at the Stevens Institute of Technology, and when it's not being used by their varsity team, it is open seven days a week for families to visit.

Individuals can pay $25 per day for a visit or get a membership for the whole family for a month for $100.

It should be noted that the pool is kept at a slightly colder temperature for their competitions and meets; hence it can be a bit colder for your younger children.
---
2. Peddie Aquatic Center
155 Etra Road, Hightstown, NJ 08520, 609-944-7564

You don't need a membership in order to swim at this remarkable pool, which is located within a private boarding school.

Thanks to the pool's massive size that consists of fifteen lanes, there is plenty of room for families to enjoy and have

Admission is $6 per swimmer to enter the facility. Families cost $18. It is advised to register in advance before visiting.
---
For the Days Spent Inside
When living in NJ, you must be prepared for any type of weather that might be thrown at you in our crazy state! You never know when a storm will hit!

Of course, we've got you covered for the hot steamy summer days with our afore-mentioned amazing list of cool aqua parks, but when the forecast calls for rain, we want you to know that we have other distinctive ideas for you to partake in throughout the state of New Jersey.

If you want to take a trip out into the wild during the bad weather, head over to our guide of Rainy Day Activities to find exclusive ideas of what to do. Trust us, you will love this (almost secretive) privy information. LOL! :)