NJ Horse and Carriage Services
Turn Your Wedding into a Fairytale!
If a classic limo is just too traditional for you and you want to take it to the next level, we have the answer. Imagine showing up to your wedding or reception in a horse and carriage. In the same way Cinderella famously showed up to the ball, you can make a statement on your own special day. Many of the NJ horse and carriage services below even allow you to choose the style of carriage and breed of horse for your rental.
Elevate Your Event Transportation—Hire a Horse and Carriage Rental for Your Wedding or Prom
There are few ways to arrive to your event that would be as magical and classic as arriving on a horse drawn carriage.
History of the Horse and Carriage Ride
Did you know that horse-drawn carriages have been around for as long as the wheel has been invented? Once the wheel was invented in Mesopotamia, people realized that attaching an animal like a horse to a cart could make transportation much faster and easier than if humans were to pull the cart along on foot.
Not only was the horse and buggy used for transportation of people, but it was also favored as a vehicle in war settings in 3000 BC.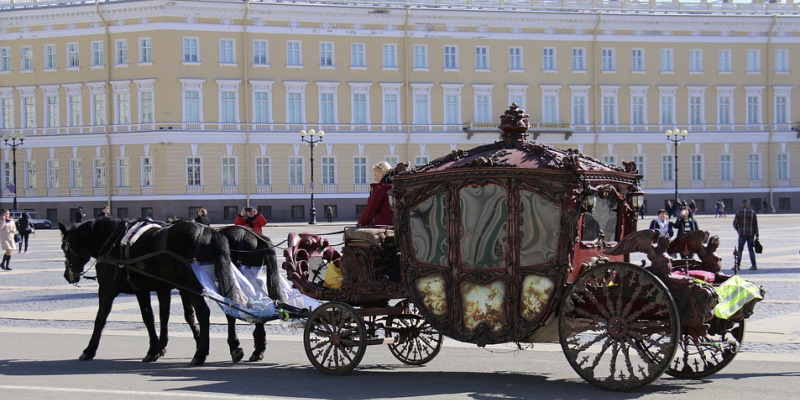 Horse Drawn Carriage being used by an English Monarch
Only the wealthiest and most elite people were able to travel by horse drawn carriage. Over time, the carts were redesigned to look as stylish and elegant as possible. They would be adorned with gorgeous colors, gems, and even real gold.
The Need for Horse & Carriages as Vehicles Emerge
As cars and other similar vehicles began to emerge in popularity, horse and carriages remained to be for the wealthy who were making a statement. It also became a popular form of transportation for those who longed for a slower-paced time.
The horse and carriage ride is now commonly used for touring parks, such as NYC's famous Central Park. It is also used for incredibly special events, such as for weddings, parades, in movies, and for funerals.
Information You May Need When Renting a Horse and Carriage
What are the prices for a horse and carriage rental?
On average, horse and carriage rentals can cost somewhere between $200 and $800 per hour. This range depends on your location and the type of horse drawn carriage you are looking to rent. Be sure to contact the company directly to get direct price quotes!
What kinds of events are horse and carriages generally used for?
Horse and carriages may be used for any event, but they are commonly used for weddings, birthday parties, sweet 16s, prom, Quinceañeras, and more!
What kinds of carriages can I rent?
Most companies offer a variety of both carriages and horse breeds to choose from. You can go with a traditional carriage if you are into the classic clean, white look. Or you can go with a more vintage-looking carriage. Some of the coolest options are the Cinderella horse and carriages. Check out the video below showing Happy Tale's Cinderella-style cart arriving to an event.
Prefer the More Traditional Way?
Showing up or leaving your wedding in a horse and carriage is not for everyone! If you find you may prefer to ride in a car, see our list of limousine rentals in NJ.