Dog Sledding near NJ and NY
Home
/ Dog Sledding near NJ and NY
Dog Sledding near NJ and NY
Live in New Jersey, New York or the tri-state area and want to go dog sledding? With these awesome places to go in Vermont, Massachusetts, Maine, Pennsylvania, and surrounding areas, you can finally cross dog sledding off of your bucket list! It's awesome to think that you don't have to travel too far to live out your Snow Dogs dream.
---
Places to go Dog Sledding in VT
Eden Dog Sledding
1390 Square Road, Eden Mills, VT 05653
802-635-9070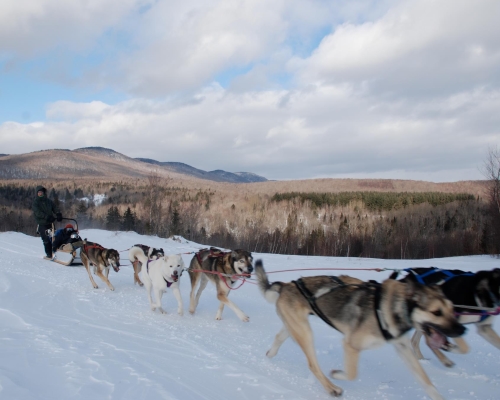 Mush! If you've never been dog sledding it is time that you have this experience. If you've already been, you know why it's time to go again. Eden Mountain Dog sledding is the place to come to have an authentic dog sledding experience. Eden offers many Dog sledding options including Dogsledding-On-Wheels in the warmer months! When people come to our paradise to try it for their first time they are often astonished at how much fun they are having with the dogs and how beautiful our area is.
---
5189 VT-100, Wardsboro, VT 05355
802-896-3478
Jeremy and Laura Bedortha own and operate Husky Works Mushing Company, which offers dog sled trips throughout Vermont. Call 802-896-3478 for more information or to schedule. They have been offering dog spirited adventures for over 10 years now. Their kennel is made up of purebred siberians who love spending time on the trails.
---
Dog Sledding in Massachusetts
Northern Exposure Outfitters
52 Longhill Road, Brookfield, MA 01506
508-867-4396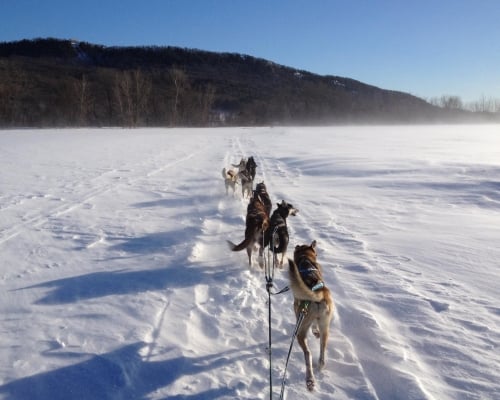 Standard Tours or Lessons is $300: In the Fall and Spring, we offer NO Snow Sledding $150 per Adult. Be Part of the Team! Participate in the preparation and care of the dogs. Help the musher hook up the dogs and sled. Enjoy a ride through the woods like never before. Northern Exposure will bring the dogs and sleds to any location for your customer's experience. Rides also available.
---
Dog Sledding in Maine
New England Dog Sledding
591 Kings Highway, Mason Township, ME
207-731-6888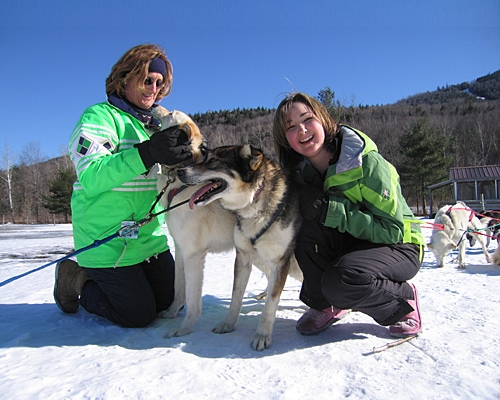 New England Dogsledding is located in Maine. They have many packages to choose from to suit your specific dog sledding needs. Choose from more intensive packages like "Learn to Mush" or "Intro to Dogsledding", or opt for a more laid back experience with the "VIP Husky Lovers Package" or "Hybrid Dogsledding Package". Most of their packages last 2-3 days, and have both lodging and food included.
---
Places to go Dog Sledding in PA
Pocono Manor Resort and Spa
One Manor Drive, Pocono Manor, PA
570-421-5791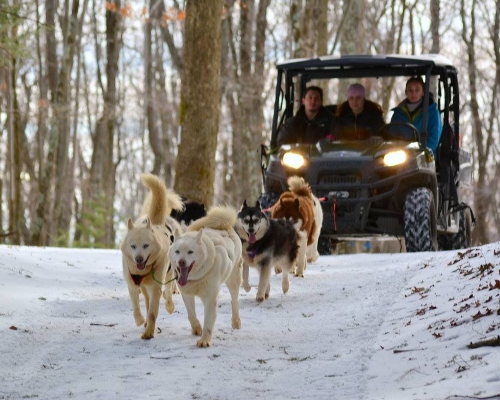 Pocono Manor Resort and Spa now offers Arctic Paws Dog Sled Tours! Experience much more than a ride, learn how to mush a team of 6-10 huskies and participate in the adventure every step of the way. Trails are groomed to offer a great experience. Dog sledding is offered December through February.
---
Though you won't find dog sledding in NJ, we've found many cool places to go dog sledding in NY and surrounding areas. You can also take advantage of dog sledding in PA, dog sledding in VT, and dog sledding in MA.
For more fun leisure activities, check out our complete guide to Outdoor Leisure Activities in NJ.