Coney Island Boardwalk Guide
Home
/ Coney Island Boardwalk Guide
Coney Island Boardwalk Guide NY
Coney Island Boardwalk is located in Brooklyn, NY and has numerous family-friendly attractions, restaurants and, of course, a beach. Whether you are heading there for a day or a week, you are certain to have endless options of things to do.


About the Coney Island Boardwalk
Located in Brooklyn, NY, the Coney Island Boardwalk is renowned for its amusement park attractions, boardwalk games, and family-owned restaurants. While names may have changed over the years, such as Astroland becoming Luna Park or Hebrew National Deli becoming Ruby's Bar and Grill, the original charm of Coney Island is still alive and well. This is a definite summer destination for both NJ and NY residents because the whole family can have fun, enjoy the beach and learn a little bit about Brooklyn's history.
---
Nathan's Famous Hot Dogs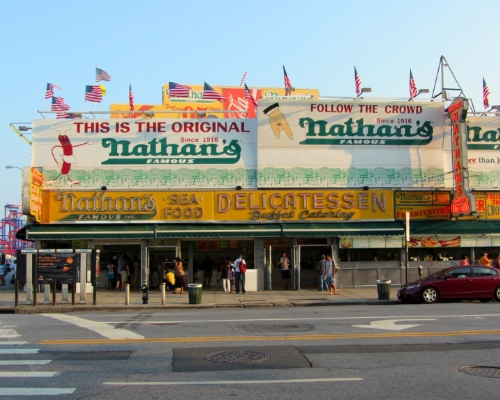 You may have been to Nathan's Famous Hot Dogs before, but you haven't had the full experience until you've eaten at the Coney Island location! That's because the first-ever Nathan's Famous Hot Dogs was constructed on the Coney Island Boardwalk, so it's only natural that there is one there today. At this boardwalk staple, you can find delicious hot dogs, burgers, fries and even wings!
---
Cyclone Roller Coaster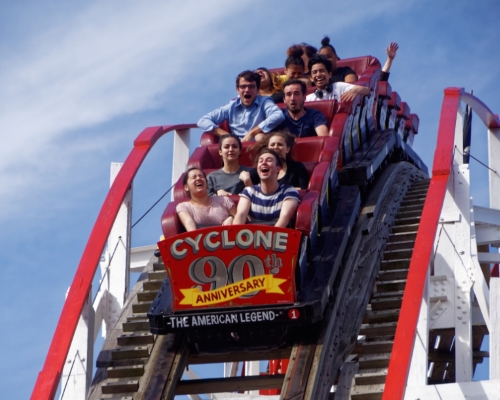 Cyclone, located in Coney Island's Luna Park, is a must-ride roller coaster for anyone seeking a thrill. This wooden coaster features 2,640 feet of track, 12 drops, and 27 elevation changes. The reason this is a must-ride is because the Cyclone is a historic coaster that has been open since 1927!
---
Eldorado Auto Skooter Bumper Cars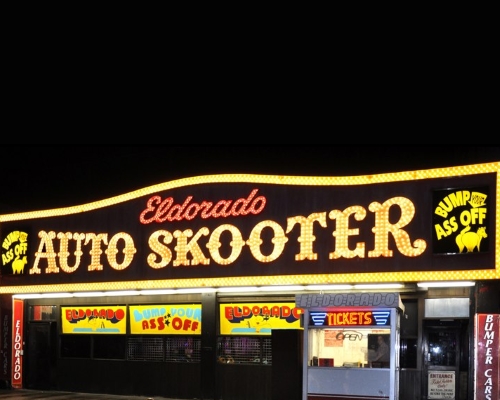 Featuring some of the best old school bumper cars, Eldorado Bumper Cars and Arcade is a great place to bring the kids for an afternoon of fun. Additionally, they have an arcade full of all the classic games!
---
Thunderbolt
Thunderbolt is the ultimate roller coaster for thrill-seekers. This coaster has a 90-degree vertical drop that will launch you at 55mph into a 100-foot vertical loop. This is definitely a roller coaster you won't soon forget!
---
Coney Island Beach and Boardwalk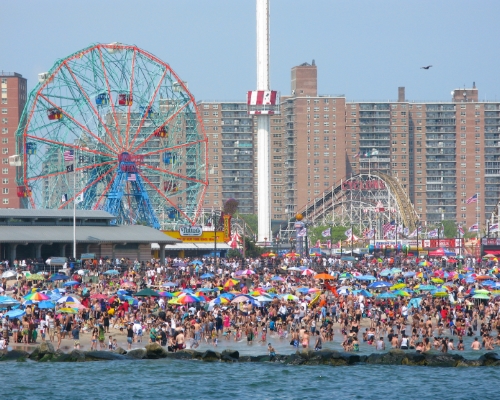 The Iconic Coney Island is a summer destination for most families in the NJ and NY area. Full of activity and fun, you can enjoy both the beautiful beach and the lively boardwalk, complete with restaurants, shops and more!
---
B&B Carousell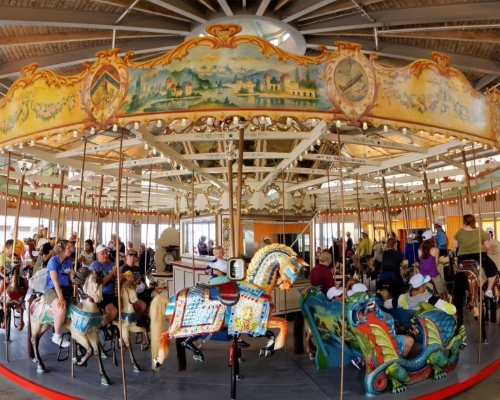 Recently restored to highlight its original beauty, the B&B Carousell is now the centerpiece of the Steeplechase Plaza. It was originally constructed in 1919 and families continue to enjoy rides on it to this day.
---
Coney Island Nightlife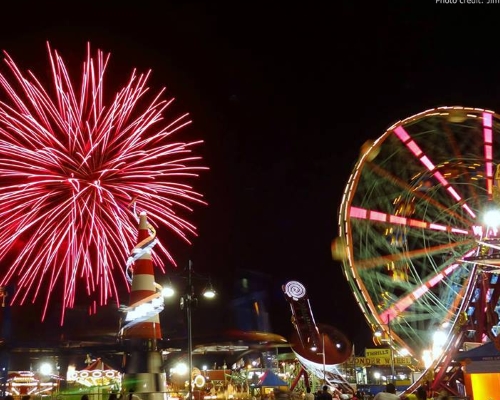 The Coney Island Boardwalk is always bustling with events, activities and cool things to do. Adults will enjoy the many restaurants and after dinner, you can spend the evening hours at any of the local bars.
---
Luna Park Coney Island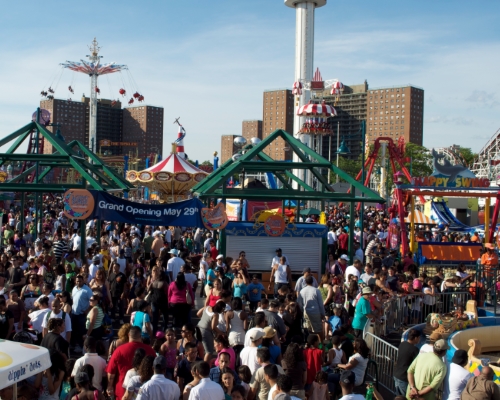 Standing in place of Astroland, Luna Park is an amusement park that features many of Coney Island's much-loved and historic coasters. It is a great place to visit if you want to get your adrenaline pumping!
---
Wonder Wheel Coney Island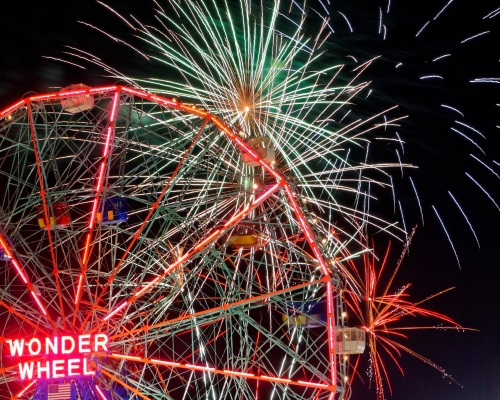 Located within the small Deno's Wonder Wheel Amusement Park, Wonder Wheel is a must-ride Ferris wheel on the Coney Island Boardwalk. Once atop the ride, you will be given a new perspective of Coney Island.
---
Ruby's Bar and Grill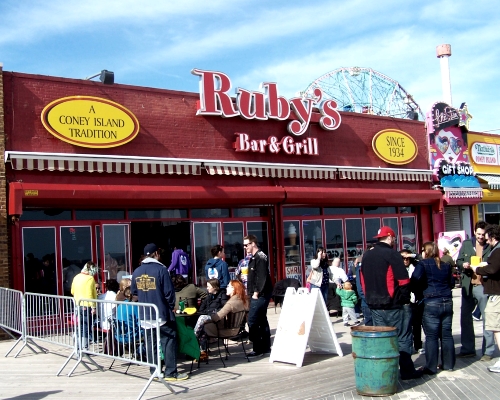 Ruby's Bar and Grill has been a hot-spot destination for both locals and tourists since it opened in 1934. It is the only bar on the boardwalk with indoor seating and the last spot in Coney Island where you can walk under the boardwalk.
---
Randazzo's Clam Bar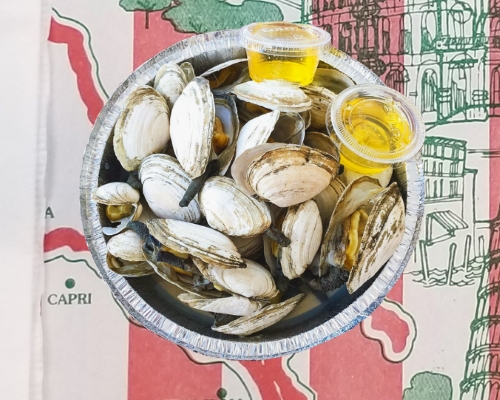 Only 2 miles down the road from the Coney Island Boardwalk, Randazzo's Clam Bar is a top-notch Italian seafood restaurant with some raw-bar fare, red sauce dishes, and breathtaking waterfront views.
---
Tom's Coney Island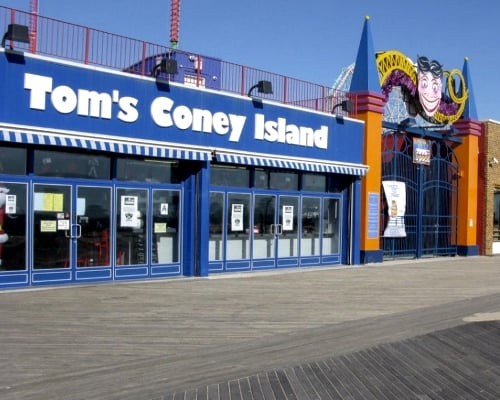 Tom's Coney Island has been serving home-style diner food to locals and tourists since 1936. They have a wide variety of food including breakfast dishes such as pancakes or waffles, and only serve dishes they would eat themselves.
---
Tatiana Restaurant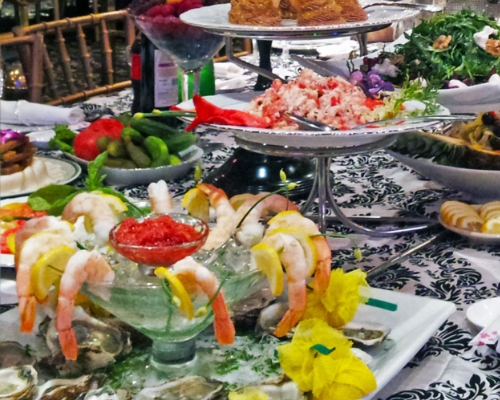 Located just 8 minutes away from the main Coney Island Boardwalk attractions, Tatiana Restaurant is a quaint Russian and American restaurant with exceptional service. In the summer you and your family will be invited to enjoy their outdoor patio. They even have live entertainment, shows, and dancing!
---
Grimaldi's Pizzeria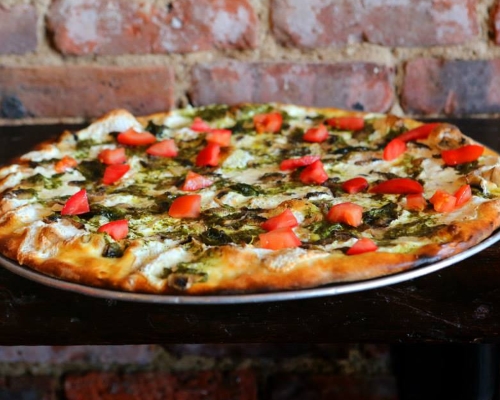 If you are looking for an excellent slice of pizza while visiting Coney Island, stop by Grimaldi's Pizzeria. They serve pizzas with every conceivable topping, including cured black olives, spinach and jalapenos!
---
Other things to do in the Coney Island NY area
Coney Island Circus and Sideshow
Coney Island Batting Range & Go Karting
Coney Island Museum
New York Aquarium
See the Brooklyn "Cyclones" Baseball Team
See upcoming events on Coney Island
If you're looking to visit one of New Jersey's world-famous boardwalks, check out all of our boardwalk guides here!