Romantic Getaways in Bucks County PA
Home
/ Romantic Getaways in Bucks County PA
Romantic Getaways in Bucks County PA
Just a short drive from many New Jersey towns, Bucks County, Pennsylvania is a romantic oasis for couples looking to escape for a few hours, overnight, or a weekend getaway. The quiet charm of Bucks County is unmatched by many of the surrounding counties and an easy escape from the hustle-and-bustle of everyday life. Every inch of the 622 square mile area of Bucks County is filled with romantic attractions for couples of all ages and tastes. Historic towns, farm-to-table restaurants, quaint bed and breakfasts, and wineries are just a few of the many incredible attractions you'll find in Bucks County, PA.
---
Chestnut Hill on the Delaware
63 CHurch Street, Millford, NJ
908-995-9761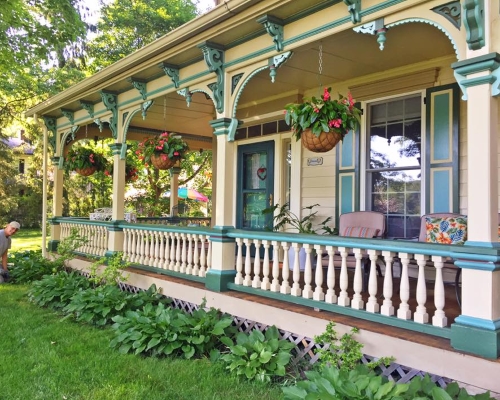 Located directly on the Delaware River!
Innkeepers Linda and Rob Castagna opened their romantic bed and breakfast, Chestnut Hill on the Delaware, in 1982. Their warm restoration of the inn's two Victorian homes is complemented by a host of modern amenities, from whirlpool baths to wireless Internet, from traditional bed and breakfast lodging to majestic all-suite accommodations. One of New York magazine's "30 Best Getaways," and recently featured in the Bucks County magazine's 2016/2017 Winter issue, Chestnut Hill offers serene views from its rooms, verandas and terraced gardens above the lower Delaware, a nationally recognized Wild and Scenic River. Chestnut Hill is situated in Milford, NJ, a picturesque river town. Dining in the river valley sets a high standard often situated in a country setting. The Delaware River Valley hosts a number of delightful wineries in the valley. There is more to do than you will ever have enough time for while visiting the inn.


Open year-around, Chestnut Hill on the Delaware welcomes hikers, cyclists, cross-country skiers, balloonists, tubers, anglers, canoeists and the unblushingly idle. During the Summer and Fall, take a tour up the Delaware River Valley in Rob's pontoon boat, you can learn about the rich history of the land and take in the beautiful scenery. Linda and Rob require a two-night minimum. Rates are from $150 to $275. For more information: chestnuthillnj.com and Facebook.
---
Bridgeton House Country Inn
1525 River Road, Upper Black Eddy, PA
610-982-5856
Our unique, riverfront, New Hope area bed and breakfast inn offers fine lodging about 20 minutes north of historic New Hope, PA in Upper Black Eddy, PA. Beautifully situated on the banks of the Delaware River, Bridgeton House Country Inn is decorated in a sophisticated artistic style with sumptuous feather beds, luxury linens, fireplaces, whirlpool tubs, balconies, French doors and river views. Bridgeton House combines French country charm with American simplicity and a dash of originality.
A labor of love by Bea and Charles Briggs, which started in 1981, has turned this 1836 riverside building into a lovely, romantic bed and breakfast in Bucks County, Pennsylvania. Celebrating over 30 years of continual caring for our guests, we specialize in romantic escapes, small weddings, commitment ceremonies, team building & corporate meetings all with Bucks County, New Hope, Pennsylvania, and Lambertville, New Jersey – just minutes away.
---
Woolverton Inn
6 Woolverton Rd, Stockton, NJ
609-397-0802
The Woolverton Inn is a country estate bed and breakfast near New Hope, PA and Lambertville NJ offering the ultimate in privacy and luxury. Set on ten park-like acres and surrounded by 300 acres of preserved farmland, our inn offers rooms with historic charm and modern amenities such as CD players and CD library, featherbeds, fluffy robes, luxury linens, and free WiFi. And don't forget our signature 3-course country breakfast each morning! FunNewJersey.com picks the Woolverton Inn as the #1 best overall Bed and Breakfast in all of New Jersey!
---
Parx Casino
2999 Street Rd, Bensalem, PA
888-588-7279
Spend a romantic evening at Parx Casino, the largest casino gaming complex in Pennsylvania! Try your luck on one of their 3,000 slot machines, 100 table games or 60-table poker room. For drinks before dinner, head to the Xlounge, a sexy lounge atmosphere featuring superior cocktails, wine flights, and a large craft beer selection. For a romantic dinner, head over to one of Parx's fine restaurant options, including Bambu Noodle House, Parxgrill, Paddock Grill and much more! Parx Casino also features exceptional nightlife options, ranging from comedy shows, to live music, sports bar, and Showcase Sundays. Visit their events calendar regularly for the hottest events in Bucks County! Parx Casino is the perfect all-in-one hub for a romantic date night in Bucks County, PA.
---
The Inn at Barley Sheaf Farm
5281 York Road, Holicong, PA
215-794-5104
The Inn at Barley Sheaf Farm is a truly historic and artistic jewel. Nestled among 100 acres of preserved farmland and forest, expansive countryside views and world-class lodging await you. The bed and breakfast features 16 guest suites spread comfortably throughout the 1740 Manor House, 19th Century Stone Bank Barn and George Kaufman Era Cottages. Many suites feature whirlpool tubs, steam showers, private balconies, fireplaces and so much more. Every overnight stay includes a full gourmet breakfast, wine, and cheese reception each afternoon and access to the pool, fitness room and more! With so many amenities, it will be tough leaving the grounds, but if you so choose The Inn at Barley Sheaf Farm is minutes away from some of Bucks County's best wineries, distilleries, and breweries; get up close with some of the local artisans. After your day trip, make sure to bring a bottle back to enjoy at their BYOB restaurant.
---
Bucks County Playhouse
70 Main St, New Hope, PA
215-862-2121
The Bucks County Playhouse is located in the heart of romantic New Hope, Pennsylvania. Their mainstage regularly features theatrical productions of new and classic musicals and plays, and many casts feature professional Broadway and Hollywood artists! While the Bucks County Playhouse offers performances for all ages, their mainstage continuously features plays for adult audiences weekends and select weeknights. Before your scheduled performance, be sure to walk the beautiful streets of New Hope and stop at any of the delicious dining establishments. Visit their website and calendar for upcoming plays to plan your romantic date night.
---
Bucks County Wine Tours
Wine Tours throughout Bucks County, PA
215-345-7988
Pennsylvania, particularly Bucks County, has an ideal climate for growing grapes and producing wine, with a long history of making exceptional wines. Take a Bucks County wine tour and experience first-hand the many wineries in the area. As Pennsylvania's premier wine-touring service, they offer luxury transportation for people looking to experience the wineries in picturesque Bucks County. You will have the opportunity to visit large production facilities, as well as smaller boutique wineries. Bucks County Wine Tours offers 3 different tour options: 4-hour private tour, 6-hour private tour and Elite VIP Tour. Each tour option includes a vehicle, chauffeur, several wines to taste and an informative tour of the facility. For a super romantic outing in Bucks County, spring for the Elite VIP Tour, which includes a luxury vehicle and super VIP treatment - great for a proposal, anniversary or very romantic date! Visit the website for more information and call to book your tour today.
---
New Hope, PA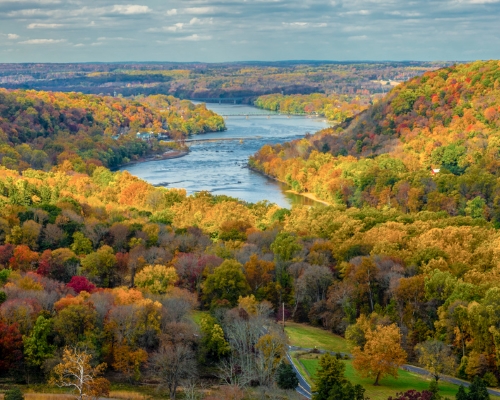 Recently named "America's Favorite Town" by Travel + Leisure, New Hope, Pennsylvania is quickly becoming the hub of day trips for those looking to escape the city life for a day of shopping, dining, quaint bed and breakfast stays and nightlife. New Hope is a small town with a big city feel, come see for yourself. Begin your romantic outing with a leisurely stroll down Main Street and browse through the town's many unique shops; hand-crafted household items, jewelry, pottery, clothing, and antiques are just a few of the things you'll find hidden in these amazing boutiques. Along your walk you're sure to stumble across the delicious smells coming from any of the exquisite eateries; dine on authentic Creole favorites or all-American cuisine at the Logan Inn – the possibilities are endless. In the summer, the waterfront dining options open and the views are simply put: unmatched. Stick around after dinner as you watch the vibrant nightlife scene unfold, live music and libations are on every corner. Come see for yourself why New Hope is quickly becoming the hottest scene outside Philadelphia.
---
Peddler's Village
2400 Street Rd, New Hope, PA
215-794-4000
The cobblestone streets of Peddler's Village lend to its romanticism, while its 65 quaint boutique shops and seven exceptional restaurants are the quintessential icing on the romantic cake. For over 50 years, visitors have flocked to Peddler's Village to absorb its charm and distinct character. Winding brick paths lead you through streets lined with colonial-style buildings with distinct shopping, dining, and lodging. During the warmer months, step off the beaten path and roam through the award-winning gardens. Starting in mid-November, Peddler's Village transforms into a winter wonderland and every shop and building are illuminated with spectacular light displays. 23 year-round festivals and events make Peddler's Village a favorite destination for romantics in Bucks County, Pennsylvania.
---
Bucks Valley Winery & Vineyard
333 Meadow Grove Rd, Newport, PA
717-204-7508
Tucked away in the quiet mountains of Central Pennsylvania, Bucks Valley Winery & Vineyard is the premier destination to enjoy quality wine, delicious food and beautifully preserved landscapes. Purchase a bottle of wine, complement it with a delicious brick oven pizza, and make your way to the outside deck, which provides unmatched views of Bucks Valley. Bucks Valley Winery & Vineyard is proud to offer a relaxing, peaceful and romantic oasis for couples to spend an afternoon reconnecting with nature over a glass of their homemade wines. The vineyard grows a wide variety of grapes, which turn into over 30 different varieties of wines ranging from Merlot to Vidal Blanc, Pinot Gris, Vanilla Fe, White Apple, Diamond, Cayuga White and so many more. Tours of the vineyard are available during business hours. Come out for a quiet and romantic afternoon at Bucks Valley Winery & Vineyard.