Rider Education of New Jersey Review
Home
/ Rider Education of New Jersey Review
Rider Education of New Jersey Review

FunNewJersey.com Rates the BEGINNER RIDER COURSE (BRC)
5 stars out of 5 stars

---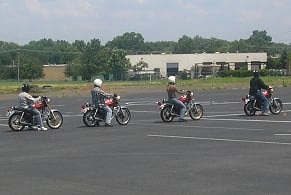 What is the Course all about?
The beginner course is designed to teach the novice motorcyclist the skills required to ride in a safe manner on the street. Successful completion of the Basic Rider Course program waives the need to return to Motor Vehicles for the State road test, it may also provide you with an insurance discount with your NJ insurance company.


Why Take the Program?
You will learn skills and gain experience that might take you over a year to learn on your own. FunNewJersey.com fully endorses the Rider Education Of NJ Motorcycle Basic Training Program as one of the best safety programs around. We have completed the course and offer here, our review of our experience. We are not affiliated in anyway with this program or the Motorcycle Safety Foundation of NJ.

Learn how to ride with confidence
If you really want to learn how to ride a motorcycle but perhaps have reservations or are intimidated, then this course is definitely for you! The Instructors walk you through each step of learning how to ride a motorcycle from scratch. Even if you have never even sat on a motorcycle, you will learn how to ride with confidence by taking this course!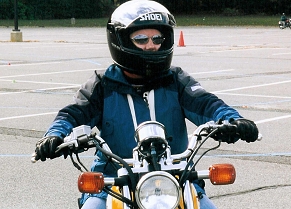 Get great hands on experience
The course consists of six to eight hours of classroom instruction and eight to ten hours of actual hands-on training. The coaches are extremely sensitive to every riders needs. If you need a little more help in any area they will spend a little extra time with you to get you up to speed.

Awesome Class Comradery!
Classroom activities are worked on in groups and open communication is encouraged so that all students understand each lesson before moving on. It was a great feeling to see us all bond together as the course went on and pull for each other as we all learned how to ride safely.

A great way to meet some great people
This experience leads me to believe that motorcyclists truly are a special breed. We all have something very big in common. We love riding, or at least want to learn how to ride. I hope I speak for everybody when I say that ultimately we want to experience and enjoy safe riding for many years to come. I want to thank everyone in this class for their words of motivation and support throughout the course. I consider you all friends and wish you all the best. Drop me a line and let me know of your experiences.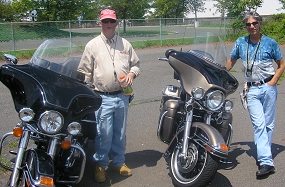 Rider Coaches are a class act
Pictured to the right is our Rider Coaches that we had in the Piscataway location, Don Ouimette and Steve Prager. Don and Steve have a great passion for riding and it shows through vividly in their teaching. It is obvious that their objective is to teach you something that they have loved doing for years. They are very serious about what they do and you can feel it the moment that you meet them.

Classroom Lessons
Pictured to the left is a small section of our Classroom. The exercises were taught with perfection and the open discussions were awesome as they got everyone involved. There is alot of material to cover and it might be difficult to get these lessons across without the class being boring. But the coaches pulled it off as their passion rubbed off on the class and they had our attention for every fleeting moment.

The Rider Education Safety Course is the real Deal
Please know that this course is very demanding physically and mentally, and is not just some cheap imitation of a course with a small boring lecture and a quick ride on a scooter. You will learn an unbelievable amount of classroom material and will be behind the wheel of your bike for quite a good while. You will be expected to perform some very serious motorcycle maneuvers and with skill. If you want to really learn how to ride a motorcycle and ride it safely for years to come then the Rider Education Of New Jersey -beginner course is a must. They also offer an experienced course. See below for more information.

A Little about me
My name is Charlie Daidone, founder of FunNewJersey.com and now avid motorcycle rider. I had never seriously considered riding Motorcycles before, but just recently had the urge to try. Being 40 years old and never being on a bike before, I was very intimidated as most of my friends had been riding for 20 years. I was very shaky in the bare beginning, but practiced as much as I could in the winter of 2005-06. It is now the new passion in my life. Pictured on the right(top) is me working on slow maneuvers when I had a Permit as I was waiting for the NJ Rider Education Course. Pictured on bottom is my Daughter the first night I got my new bike.

My last thoughts about the course
Taking the course was by far the best thing I have ever done to improve my riding and safety skills. I had surely adopted some very poor habits by trying to learn by myself and found it a little difficult to break those habits when I was taught the correct way. Do yourself a favor and take the course even if you have previous riding experience.
---
Rider Education of New Jersey Inc.
Approved Motorcycle Training Programs Motorcycle
Safety Foundation & The State of New Jersey
P.O. Box 1400, Edison, NJ 08818-1400
1-800-8WE-RIDE or 732-572-0800
Click Here to register now!
---
SIX LOCATIONS THROUGHOUT THE STATE
Please call 732-572-0800 for information about any of these locations


Piscataway
Middlesex County Vocational School - Piscataway
21 Suttons Lane - Piscataway, NJ - Middlesex County


Randolph
County College of Morris
Route 10 & Center Grove Road - Randolph, NJ - Morris County


Lincroft
Brookdale Community College
Route 520 - Lincroft, NJ - Monmouth County


Lakehurst
Navy Lakehurst Center
Rt. 547 - Lakehurst, NJ - Ocean County


North Branch NJ
Raritan Valley Community College
Route 28 & Lamington Road, North Branch, NJ - Somerset County


Newton
Sussex Community College (SCC)
One College Hill Rd, Newton, NJ - Sussex County

---
Courses run April through October Rider Education of NJ
The Basic RiderCourse program provides helmets, motorcycles (100cc to 350cc) and instructional material for student use.

All of their Rider Coaches for the program are all experienced motorcycle operators who are nationally certified by the Motorcycle Safety Foundation, as well as, the state of New Jersey.


For more information Please Visit the Rider Education of New Jersey Website