NJ Towns and Villages
Home
/ NJ Towns and Villages


NJ Towns and Villages
Grab your significant other, best friends, or family, and explore some of the top towns and villages of New Jersey! Perfect for going for a stroll, spending the day shopping, or grabbing an amazing bite to eat, you won't want to miss what these quaint towns have to offer.


New Jersey is home to 565 municipalities, with 254 of those being boroughs, 52 cities, 15 towns, 241 townships, and 3 villages. The state itsself has so much history to offer, and the towns and villages we have included on our list are some of the prime locations for exactly that.
Princeton, New Jersey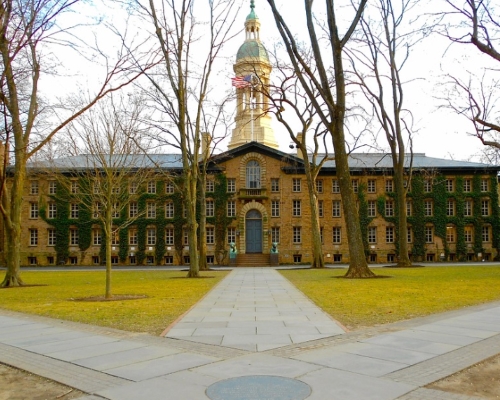 Princeton is a lovely historical town filled with culture. It is also home to the world famous Princeton University.
Princeton has some fine shops and restaurants at Palmer Square, which are located in the heart of downtown Princeton. There are a number of awesome diverse and cultural eateries throughout downtown Princeton.
Princeton caters well to couples, families and of course college students! Check out the Princeton website and plan to spend a day or a whole weekend in this beautiful city.
Recommended Day Trip Idea for Princeton NJ
Start your day wandering around Palmer square, and have lunch at the Alchemist and Barrister located in Palmer Square.
Visit The Princeton Art Museum, a free attraction, located on the University Campus. Right next door is McCormick Hall, where you can see an extensive collection of European painting and sculpture from the Middle Ages to the 20th century, as well as of American art from the Colonial period to the contemporary era.
Then you can go across the street and browse the famous Princeton Record exchange which boasts thousands of used Lp's and Cd's.
Knock back a few at the Triumph Brewing Company and sleep it off at the historic Nassau Inn, a beautiful hotel used as a meeting place since 1756.
Other cool area attractions are Drumthwacket and Morven Museum and Gardens.
Frenchtown, New Jersey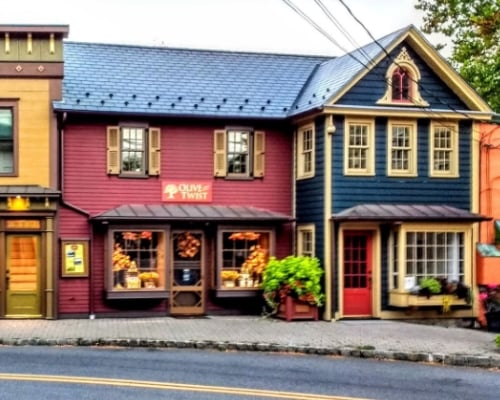 Frenchtown is one of Hunterdon County's best kept secrets. Frenchtown is a small, quaint, charming town nestled right on the Delaware river.
We have found that Frenchtown New Jersey is a great destination stop to unwind for a day or for the whole weekend. There are more than just a few small quaint bed and breakfasts and nearby attractions for a weekend getaway.
You'll find restaurants, unique shops, antiques, clothing and crafts as well as the most charming little pet supply store you've ever been to!
Check out the Frenchtown website for more info.
Recommended Day Trip Idea for Frenchtown NJ
Just wandering about downtown on Bridge Street and browsing the quaint shops will relieve some big city stress.
Enjoy dining at Cochina del Sol, The Bridge Cafe or The Frenchtown Inn. Find the best places to eat and more at FrenchtownNJ.org.
In the summer you can tube down the river right from Frenchtown. Also pay a Visit to Little Nishisackawick Creek.
For lodging we recommend the Widow McCrea House, an adorable bed and breakfast that is located just across from the river.
There are way too many quaint places to stay to list here, so to find some more lovely bed and breakfasts in New Hope and in all of nearby Bucks county visit this website. This will give you a good start to finding some really nice bed and breakfasts in the area.
Villages in New Jersey
---
Historic Batsto Village
31 Batsto Rd, Hammonton NJ
609-561-0024
Batsto, once a 19th-century ironworks and glassmaking industrial center, is now a museum village consisting of 33 historic buildings and structures. The Batsto Furnace furnished munitions for the American Revolution and the War of 1812, and the Batsto post Office, which was founded 140 years ago, is the longest-running post office in the country not to have changed either its name or location.
---
Tuckerton Seaport
120 W Main St, Tuckerton NJ
609-296-8868
A real, working seaport village and museum dedicated to preserving, presenting and interpreting the rich maritime history of the New Jersey shore. Come see the famous lighthouse. Learn about and see artifacts about oystering. Learn how to shuck oysters and clams and how they catch them. Also be sure to visit the maritime library! This is a great place with many exhibits and demonstrations... way too many to list here! Click on the link above and check out their information-packed website.
The seaport is only open in the warmer months March 20 through December 20.
---
Historic Cold Springs Village
720 Rt. 9 South, Cape May, NJ
609-898-2300
Visit historic Cold Springs Village in Cape May, New Jersey. Enjoy 25 restored historic buildings on a 22-acre wooded site where costumed interpreters bring the crafts, sights, sounds, and aroma of the Age of Homespun to life. See civil war actors, crafts and trades and much, much more!
---
Dutch Neck Village
97 Trench Rd, Bridgeton NJ
609-898-2300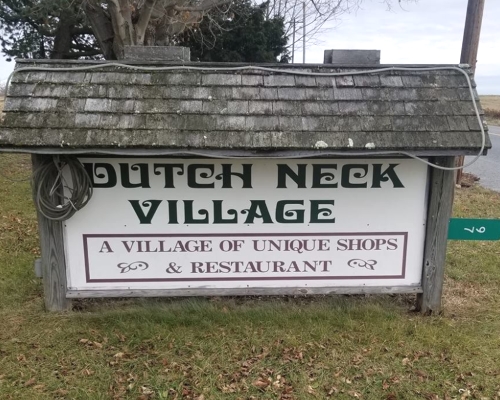 A quaint country village with many shops. Visit the country living museum and experience life as a farmer in the early 1900's. See the 100 year old hickory tree at the Old Hickory Arboretum as well as 3 acres of other fine plants and trees.You can spend a nice relaxing day at this wonderful country village.
---
Historic Smithville
609-748-8999
Walk on cobblestone paths and return to the 1700's when you explore the quaint historic town of Smithville located near Atlantic City. Historic Smithville is known for their selection of lovely shopes, fantastic dining, and history. Located right in between the Pine Barrens and the Mullica River, and just steps away from the Great bay and Atlantic Ocean, Smithville is a getaway that will leave you breathless.
---
Historic Speedwell Village
333 Speedwell Ave, Morristown NJ
973-285-6550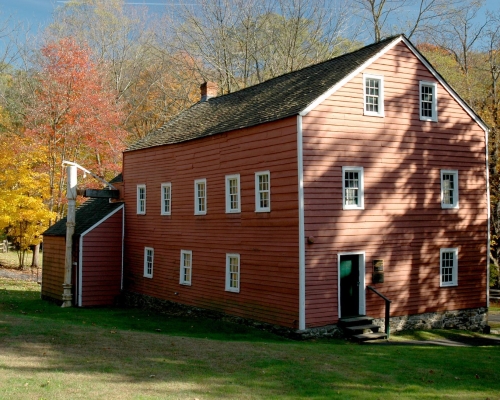 Visit the Iron works, The Vail house mansion and a telegraph factory among many other things at Historic Speedwell Village. Spanning across eight acres, this National Historic Landmark is known as the "The Birthplace of the Telegraph". The Factory Building has been turned into an interactive museum where visitors have the opportunity to learn about telecommunications on three different stories.