New Jersey Transportation
Home
/ New Jersey Transportation

New Jersey Transportation
Welcome to FunNewJersey.com's ultimate guide to getting around the great state of New Jersey! Whether you are looking to travel by boat, car, train, or place, we have got you covered.

Our in-depth guide lists all boats and water ferries traveling from New Jersey, both international and regional airports, trains (both Amtrak and NJ Transit), limousine services, car rental services, and other useful links related to transportation. See information about the different ways to get around the state below.
Choose your preferred way to travel to get started.
Boat | Airports | NJ Transit | Amtrak | Limousine Services | Car Rentals

---
Travel by Water
Seastreak - Sightseeing Cruises - Serving Monmouth County NJ and NYC
Highlands, NJ
1-800-262-8743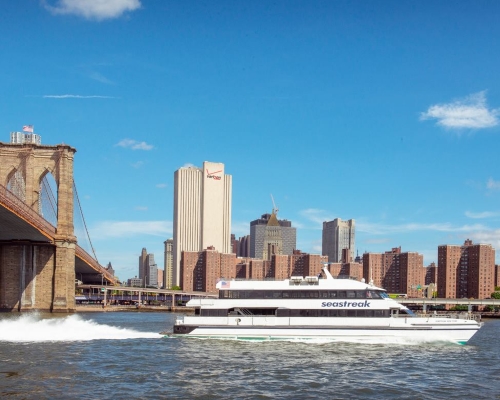 Finally, a better way to get to New York City! Skip the traffic! Relax! Enjoy the views aboard our high-speed ferry! Seastreak also offers lots of fun family friendly trips year round. Join us for one of our Sightseeing Cruises from Highlands or Atlantic Highlands to see the amazing sights of New York Harbor; awesome Fall Foliage Cruises, ticket packages to see West Point football games, or book one of our fabulous cruises to Martha's Vineyard! Seastreak vessels are also available for private charter, whether it is a holiday party, corporate meeting or any special occasion! Please call 1-800-BOATRIDE (800-262-8743) or visit seastreak.com for more information.
---
NY Waterway
Weehawken & Hoboken - Manhattan
800-533-3779
Some people say a NY Waterway Ferry Ride or Sightseeing Cruise is the friendliest experience they have had in New York.
---
Seastreak
Atlantic Highlands & Highlands - Manhattan
1-800-BOAT-RIDE
Year-round weekday and weekend fast passenger ferry service to Pier 11 (Wall Street) and East 35th Street in Manhattan. Seastreak also offers trips to sporting events, sightseeing cruises and many other special event cruises throughout the year.
---
Cape May-Lewes Ferry
Cape May - Delaware
1-800-643-3779
The Cape May-Lewes Ferry is the most memorable way to travel between Delaware and New Jersey. Their car ferries make it so convenient, cutting miles off your trip along the Atlantic coast. Click on link above for schedule and fares.
---
River Link Ferry
Camden - Philadelphia
215-922-2FUN
The River link Ferry on the Delaware River offers a 12-minute picturesque view of the Philadelphia skyline and colorful attractions in Camden.
---
Liberty Landing Marina
NJ to New York
201-985-8000
Liberty Landing Marina offers a Weekend Water Taxi Service to NY in the summer season.
---
NY Water Taxi
New York
212-742-1969
Hop on - Hop off easily with a one day or two day pass. The best way to see New York! On Saturdays and Sundays, our boats provide regular service between 10 stops at the city's hottest neighborhoods and attractions. Water Taxis are fast and fun, so you'll see more sights in less time and enjoy a stress-free, breezy ride.
New Jersey International Airports

Newark Liberty International Airport
Newark Liberty is located in Essex and Union Counties between the New Jersey Turnpike (accessible from Exits 13A and 14), U.S. Routes 1 & 9 and I-78. EWR is about 16 miles from midtown Manhattan.
---
Atlantic City International Airport
Atlantic City International Airport is located right off of exit 9 from the Atlantic City Expressway. Click here for a map and directions. Click here for real time flight tracking.
Other Regional Airports
Because New Jersey is so close to the two major cities New York City and Philadelphia, many prefer to use airports located out of state. See some of the major airports in the area below.


JFK International Airport (NYC)
Laguardia International Airport (NYC)
Philadelphia International Airport (Philadelphia)
NJ Transit
NJ Transit is New Jersey's state-owned public transportation system, with buses, trains, and a light rail system operating at locations all across the state. NJ Transit also serves parts of New York and Pennsylvania, lying just outside of New Jersey.


Port Authority of New York and New Jersey
Amtrak
Many prefer to travel with Amtrak because of their commitment to providing customers with both comfort and convenience. Amtrak trains make stops at Metropark Station in Iselin, New Brunswick station in New Brunswick, Pennsylvania Station in Newark, Newark Liberty Intertnational Airport Station in Newark, Princeton Junction station in Princeton, and Trenton Transit Center in Trenton, NJ.
New Jersey Limousine Services
Leave transportations to the professionals! Choose one of the limo or taxi services in NJ to get you to and from your destination safely, on time, and in style. Many of these services are also available for special events such as weddings, birthdays, and more. Click on a link below for more information.


BBZ Limousine & Livery Services
Bergen Private Car & Limo Service
Spectrum Limousine and Transportation
Vander Plaat Limousine Service
New Jersey Car Rentals
Visiting New Jersey and looking to rent a car for the duration of your stay? Check out one of these car rental services for more information.


Rent a Wreck - Many locations across NJ!
Hertz Rent a Car - Many locations across NJ!
Avis - Many locations across NJ!
Enterprise - Many locations across NJ!
Just 4 Wheels - Southern NJ
Imagine Lifestyles Luxury Rentals - Central NJ
---
Other Helpful NJ Transportation Links
New Jersey Turnpike Authority and Garden State Parkway
National Scenic Byways Program (USDOT)
NJ Division of Highway Traffic Highway Safety
U.S. Department of Transportation (USDOT)