New Jersey Transportation
Home
/ New Jersey Transportation

New Jersey Transportation
Welcome to FunNewJersey.com's ultimate guide to getting around the great state of New Jersey! Whether you are looking to travel by boat, car, train, or place, we have got you covered.

Our in-depth guide lists all boats and water ferries traveling from New Jersey, both international and regional airports, trains (both Amtrak and NJ Transit), limousine services, car rental services, and other useful links related to transportation. See information about the different ways to get around the state below.
Choose your preferred way to travel to get started.
Bus | Boat | Airports | NJ Transit | Amtrak | Limousine Services | Car Rentals

---
New Jersey Bus Services
National Bus Charter Newark - Serving all of NJ
49 Washington St. Newark, NJ 07102
1-844-755-0510
Group travel any time of year can be a stressful venture. However, if you rely on National Charter Bus, we'll streamline your trip while you can focus on the enjoyable parts. We provide private charter bus and minibus rentals for corporate shuttle services, weddings, educational trips, sports events and private trips anywhere in New Jersey. If you've explored the state of New Jersey and feel like venturing out to other cities, we even offer bus rentals to New York City, Boston, New Haven, Philadelphia, Washington DC and Alexandria.

To learn more about our services, contact us at 1-844-755-0510 and get a free bus quote or check out the most updated bus prices on our website.
---
Shofur Newark - Serving all of NJ
51 Park Pl. Newark, NJ 07102
800-436-8719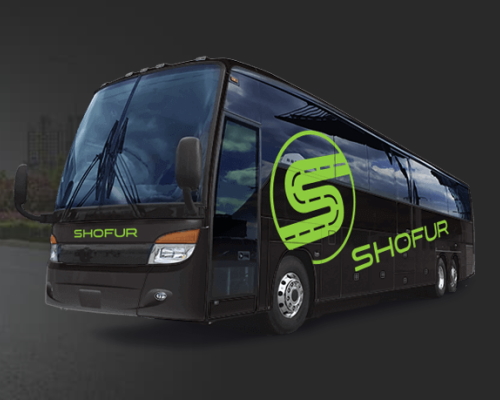 Traveling around New Jersey with a group is as easy as renting a charter bus rental with Shofur. We're a 24/7 group transportation service offering services to companies, wedding parties, sports teams, school districts, colleges, religious groups and more. We can even transport your group to other cities such as Atlantic City, New York City, Boston, Baltimore, Philadelphia, Pittsburg, Washington DC or Virginia Beach. Simply contact us at 1-800-436-8719 and our reservation team will be happy to help you out!
---
New York Luxury Bus Charters - Serving all of NJ & All of NY
344 Grove St. Jersey City, NJ 07102
(929) 305-0262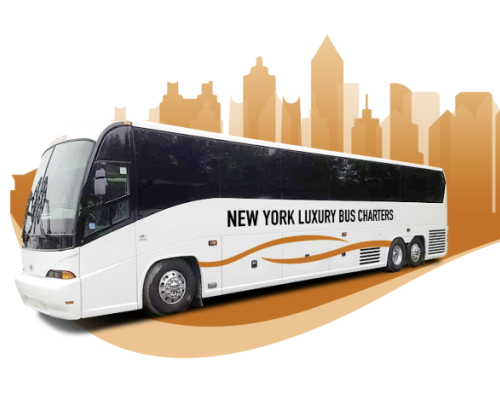 New York Luxury Bus Charters offers private group transportation services in all five boroughs in the state of New York and in every county in New Jersey. Whether your group needs to attend a corporate get-together, a wedding, an educational event, sports game or a religious function, we're here to make your trip easier.

A couple of the transportation services we offer include sprinter vans, limos, wheelchair-accessible vans as well as luxury minibus and charter bus rentals. Customize your bus rental based on your needs or the duration of your trip. Whatever you decide, your bus driver can drop you anywhere you need.

Contact us at (929) 305-0262 to learn about the services we can offer you and your group!
---
Easy Charter Bus - Serving all of NJ & All of NY
740 Broadway Suite 100, New York, NY
718-502-9983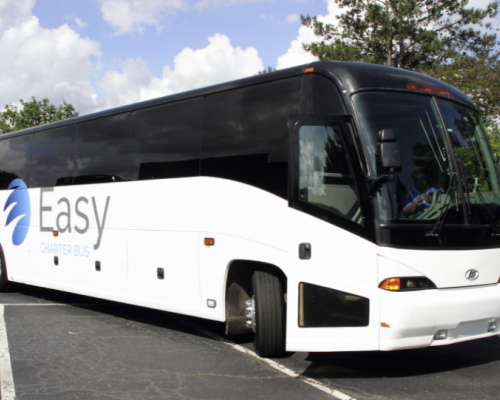 Group transportation in New York and New Jersey doesn't need to be difficult. If you rent a private charter bus or minibus rental with Easy Charter Bus we can drop you to any destination of your choice in either state. In addition, you can customize your private bus rental with amenities such as free WiFi, onboard restrooms, reclining seats, electrical outlets, flat screen TVs and more. We are also practicing social distancing procedures on board, and each bus rental is sanitized before and after use for the safety of the driver and passengers.

Whether you're part of a sports team, wedding, educational class, religious group, private tour, senior trip, corporate team or are going to the airport, we can offer you the right bus for the occasion.
Contact us at 718-502-9983 for a free, no-obligation bus quote!
---
Travel by Water
Seastreak - Sightseeing Cruises - Serving Monmouth County NJ and NYC
Highlands, NJ
1-800-262-8743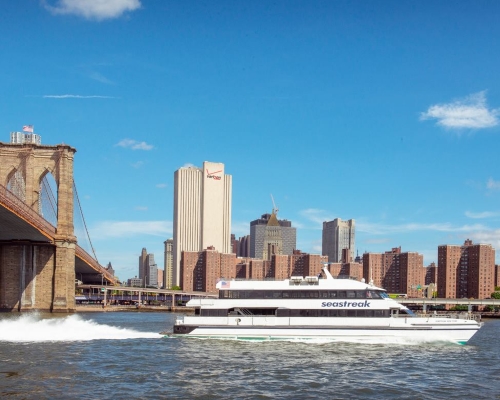 Finally, a better way to get to New York City! Skip the traffic! Relax! Enjoy the views aboard our high-speed ferry! Seastreak also offers lots of fun family friendly trips year-round. Join us for one of our Sightseeing Cruises from Highlands or Atlantic Highlands to see the amazing sights of New York Harbor; awesome Fall Foliage Cruises, ticket packages to see West Point football games, or book one of our fabulous cruises to Martha's Vineyard! Seastreak vessels are also available for private charter, whether it is a holiday party, corporate meeting or any special occasion! Please call 1-800-BOATRIDE (800-262-8743) or visit seastreak.com for more information.
---
NY Waterway
Weehawken & Hoboken - Manhattan
800-533-3779
Some people say a NY Waterway Ferry Ride or Sightseeing Cruise is the friendliest experience they have had in New York.
---
Seastreak
Atlantic Highlands & Highlands - Manhattan
1-800-BOAT-RIDE
Year-round weekday and weekend fast passenger ferry service to Pier 11 (Wall Street) and East 35th Street in Manhattan. Seastreak also offers trips to sporting events, sightseeing cruises and many other special event cruises throughout the year.
---
Cape May-Lewes Ferry
Cape May - Delaware
1-800-643-3779
The Cape May-Lewes Ferry is the most memorable way to travel between Delaware and New Jersey. Their car ferries make it so convenient, cutting miles off your trip along the Atlantic coast. Click on link above for schedule and fares.
---
River Link Ferry
Camden - Philadelphia
215-922-2FUN
The River link Ferry on the Delaware River offers a 12-minute picturesque view of the Philadelphia skyline and colorful attractions in Camden.
---
Liberty Landing Marina
NJ to New York
201-985-8000
Liberty Landing Marina offers a Weekend Water Taxi Service to NY in the summer season.
---
NY Water Taxi
New York
212-742-1969
Hop on - Hop off easily with a one day or two day pass. The best way to see New York! On Saturdays and Sundays, our boats provide regular service between 10 stops at the city's hottest neighborhoods and attractions. Water Taxis are fast and fun, so you'll see more sights in less time and enjoy a stress-free, breezy ride.
---
New Jersey International Airports

Newark Liberty International Airport
Newark Liberty is located in Essex and Union Counties between the New Jersey Turnpike (accessible from Exits 13A and 14), U.S. Routes 1 & 9 and I-78. EWR is about 16 miles from midtown Manhattan.
---
Atlantic City International Airport
Atlantic City International Airport is located right off of exit 9 from the Atlantic City Expressway. Click here for a map and directions. Click here for real time flight tracking.
Other Regional Airports
Because New Jersey is so close to the two major cities New York City and Philadelphia, many prefer to use airports located out of state. See some of the major airports in the area below.


JFK International Airport (NYC)
Laguardia International Airport (NYC)
Philadelphia International Airport (Philadelphia)
NJ Transit
NJ Transit is New Jersey's state-owned public transportation system, with buses, trains, and a light rail system operating at locations all across the state. NJ Transit also serves parts of New York and Pennsylvania, lying just outside of New Jersey.


Port Authority of New York and New Jersey
Amtrak
Many prefer to travel with Amtrak because of their commitment to providing customers with both comfort and convenience. Amtrak trains make stops at Metropark Station in Iselin, New Brunswick station in New Brunswick, Pennsylvania Station in Newark, Newark Liberty International Airport Station in Newark, Princeton Junction station in Princeton, and Trenton Transit Center in Trenton, NJ.
---
New Jersey State Highways | A Unique History
Exploring the roads of New Jersey can be a thrilling and educational experience. After all, our highways are more than just ways to get from one place to another—they also tell stories of history and culture, and they provide numerous opportunities for adventure.


From winding turns that date back hundreds of years to newly built bridges that span legendary rivers, New Jersey's state highways offer an unparalleled look into the diverse landscape of this vibrant region.


When you head out to explore New Jersey roads, be sure to pack a snack, check your NJ auto coverage and fill up your gas tank for a day of fun and adventure.


Exploring the Unique History of New Jersey's State Highways

New Jersey is a state like no other. From its legendary boardwalks to its iconic diners, it has a rich and unique history. But did you know that the state's highways are equally as special? Let's take a look at the fascinating story behind New Jersey's state highway system.


The NJ Route System is Born
In 1916, the first numbered routes in New Jersey were designated by the legislature as part of an effort to improve traffic flow throughout the state. These routes were marked with simple white signs and most were only two-lane roads, but they provided a crucial transportation service for locals and visitors alike.

The Birth of Turnpikes

In 1925, the first turnpike – or toll road – opened in New Jersey. The Garden State Parkway was born! This toll road ran from Cape May to Montvale and featured wide lanes, scenic views, and multiple rest stops along the way. It quickly became a popular route for travelers looking to get away from it all for a weekend or just take in some of New Jersey's stunning scenery.


Over time, more turnpikes were added to the network, including the Atlantic City Expressway (1956), The New Jersey Turnpike (1952), and Interstate 78 (1956).


These new roads helped connect different parts of the state with each other, making it easier for residents to travel between cities or towns without having to take winding back roads or make use of public transportation options like trains or buses. They also made it possible to reach distant destinations outside of New Jersey much faster than before.


Unnumbered roads

The first numbered highway system in New Jersey was born out of a desire to organize the state's roads. In 1913, the State Highway Commission proposed such a system, and three years later, legislation was put into place to make it official.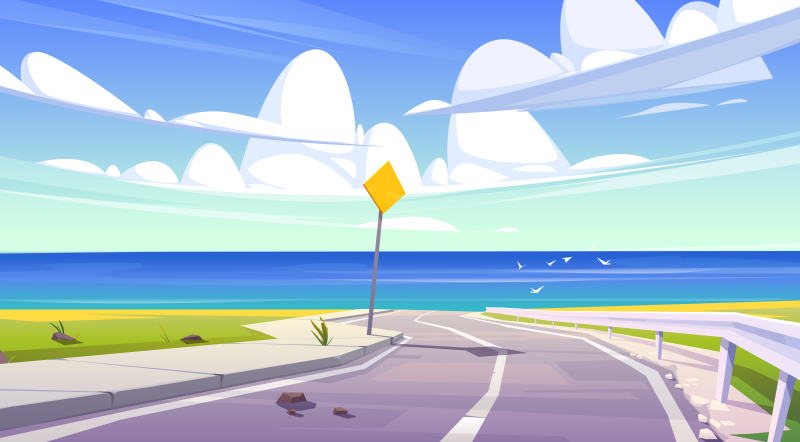 By 1923, 24 routes had been assigned numbers, yet due to a lack of central oversight and coordination, some roads were never given them. This marked the beginning of a decades-long pattern that continued until World War II when new systems of organizing began to be tested and eventually matured into what we have today.


Cool Facts About NJ Driving Laws and Helpful Driving Tips

New Jersey is known for its densely populated highways and for being the home of the Jersey Shore. But, New Jersey also has some interesting facts and regulations when it comes to driving. Learning more about these laws can help keep you safe on the road while also saving you time and money!

NJ Driving Laws
In New Jersey, it is illegal to pump your own gas. All gas stations in the state are staffed with employees who are responsible for filling up your vehicle.


Similarly, many states require drivers to move over or slow down when law enforcement officers are pulled over on the side of the road; in New Jersey, this rule applies to any roadside emergency vehicle like an ambulance or fire truck as well.


As far as distracted driving goes, all drivers in NJ must use hands-free technology if they want to talk on their cell phones while driving. Drivers must also refrain from texting or using social media apps while behind the wheel.


Drivers under 21 years old have even stricter rules; they are not allowed to use any type of electronic device while operating a motor vehicle.


Helpful Driving Tips


Driving defensively is always recommended, no matter what state you're in or what laws apply there. It's important to be aware of your surroundings at all times and be prepared for anything that might happen on the road.


Make sure that your car is properly maintained so that it runs safely and efficiently; having regular checkups done by a professional mechanic will help ensure that any potential problems are identified before they become serious issues. And lastly, always follow posted speed limits—it will save you time (and money!) in the long run!


Garden State Parkway

The Garden State Parkway, which runs for 173 miles across New Jersey, is unlike most highways in that it does not have exit numbers along its roadway. Instead of exiting at a certain numbered exit, drivers must remember where the exits are located based on the Parkway's mile markers.


Despite this logistical challenge, many locals are familiar with the highway because its distinctive numbered exit signage makes it easier to determine mileage along its route. This helps motorists travel more safely and efficiently along this well-traveled stretch of road.


Stay Back! It's the Law


New Jersey law considers reckless driving to be a serious crime. Maintaining proper distance when driving is mandated throughout the state in order to ensure everyone's safety on the road. This is especially important to remember as it comes with steep consequences if violated.


While New Jersey does offer safe driver programs, an infraction for not keeping your distance can result in a hefty fine of $140 as well as five points being added to your license. Keep your distance and stay safe by adhering to the laws of New Jersey!


What's a "safe" following distance in New Jersey?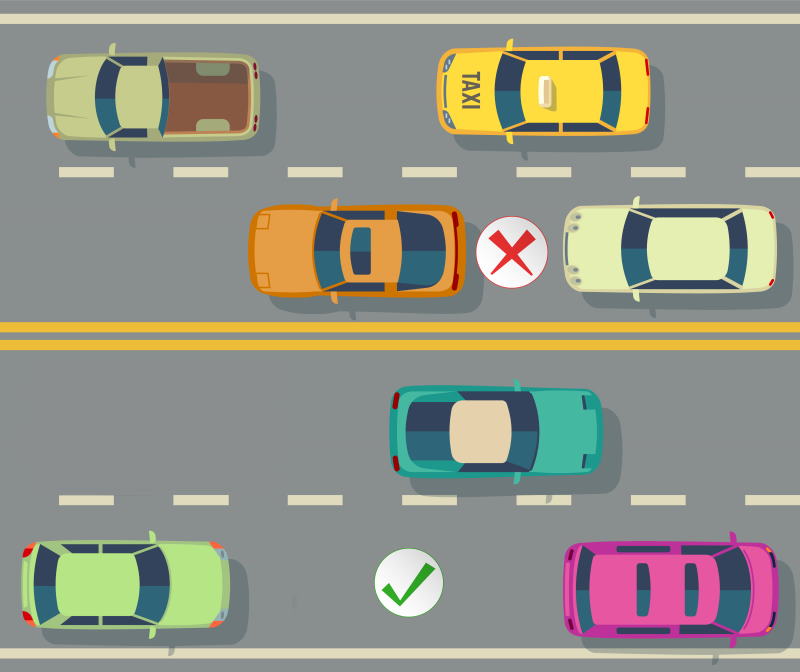 Driving in New Jersey is a tricky task at the best of times, and even more so when you have to maintain a safe following distance. In ideal conditions on good roads, the minimum recommended gap between vehicles should be a 2-second time delay.

This buffer zone should ensure that if one has to brake suddenly, there is enough space for other drivers to react as needed. If there are poor roads and/or rough weather, it's wise to increase the time gap to 4 or 5 seconds for extra caution.


Yellow light time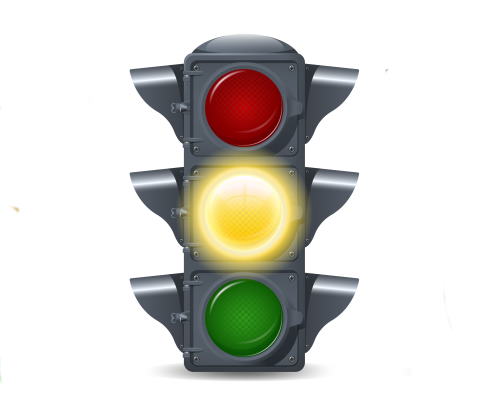 For drivers in New Jersey, it pays to stay alert. Take yellow lights for example: the length of the light is determined by the speed limit of its location. A recent change to traffic laws means that, at any intersection where the speed limit is below 35 mph, you will only get one second of yellow light for every 10 miles an hour of the speed limit.


This highlights how important it is to approach an intersection with care and caution; as a fraction of a second at an otherwise perfectly timed intake could lead to problems further down the line if they are in violation of the traffic laws due to being unprepared.


Final Thoughts


New Jersey's roadways are a part of the state's unique history. From their humble beginnings as dirt paths connecting rural communities to the modern highways that carry millions of vehicles each day, these roads have been an integral part of New Jersey's development.


The Garden State Parkway and the New Jersey Turnpike are two of the most well-known highways in the state, but there are many other fascinating routes worth exploring. So, whether you're a longtime resident or just passing through, be sure to take some time to enjoy all that New Jersey's highways have to offer.


---
New Jersey Limousine Services
Leave the transportation to the professionals! Choose one of the limo or taxi services in NJ to get you to and from your destination safely, on time, and in style. Many of these services are also available for special events such as weddings, birthdays, and more. Click on the links below for more information.
---
Jersey Car & Limo - Serving all of NJ
Toms River, NJ 08753
732-664-8080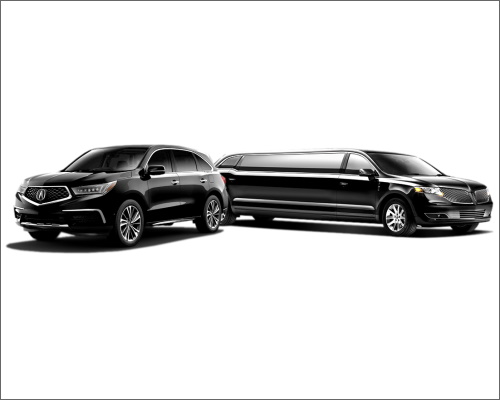 Jersey Car & Limo is an NJ-based limousine transportation service that has been in business for over 10 years. They offer a variety of services to meet both your business and personal needs, such as luxury sedans, SUV's, corporate vans, and personal chauffeur services. Choose from the vehicle you desire from their impressive fleet of cars, limos, and party buses.
Get luxury transportation to and from NJ's primary airports, including Newark Airport, Philadelphia Airport, Trenton-Mercer Airport, and Atlantic City Airport. Jersey Car & Limo's services are offered all throughout NJ and even in surrounding states, such as PA and NY.
---
Exclusive Taxi and Car Service - Serving all of NJ
732-350-TAXI (8294)
609-686-LIMO (5466)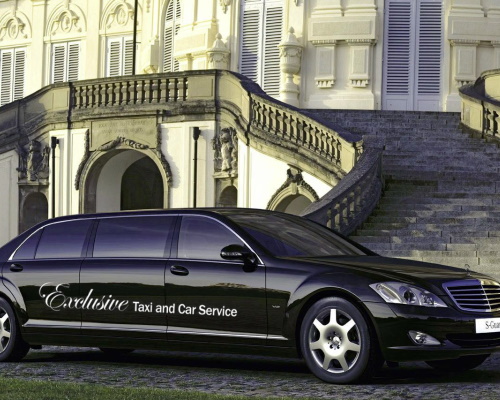 Exclusive Taxi and Car Service is one of NJ's premier limousine services offering airport transportation, luxury transportation to and from weddings and special events, and taxi services. Their fleet ranges from traditional yellow taxis to exciting stretch Hummer limos. All of the drivers for Exclusive Taxi and Car Service have been trained to be courteous and professional as they ensure your safety and comfort throughout the duration of your trip.
Located in Ocean County, Exclusive Taxi and Car Service services major airports such as Newark, JFK, Philadelphia, LaGuardia, and Atlantic City airports at an affordable and competitive price.
---
Highly recommended Limo services


Prestige Car and Limo - Serving the Toms River area as well as all of Ocean and Monmouth Counties.
Shore Taxi and Car Service - Serving all of South Jersey.
Newark Airport and Car Limo Service - Serving the entire Tri-State area.


More NJ limousine services below:


BBZ Limousine & Livery Services
Bergen Private Car & Limo Service
Geiger's Limousine & Transportation
Spectrum Limousine and Transportation
Vander Plaat Limousine Service
New Jersey Car Rentals
Visiting New Jersey and looking to rent a car for the duration of your stay? Check out one of these car rental services for more information.


Rent a Wreck - Many locations across NJ!
Hertz Rent a Car - Many locations across NJ!
Avis - Many locations across NJ!
Enterprise - Many locations across NJ!
Just 4 Wheels - Southern NJ
Imagine Lifestyles Luxury Rentals - Central NJ
---
Other Helpful NJ Transportation Links
New Jersey Turnpike Authority and Garden State Parkway
National Scenic Byways Program (USDOT)
NJ Division of Highway Traffic Highway Safety
U.S. Department of Transportation (USDOT)
Motor Vehicle Commission of NJ