Day Trip to Tuckerton NJ
Home
/ Day Trip to Tuckerton NJ
Day Trip to Tuckerton NJ

Tuckerton Bait and Tackle - 338 S Green St (609) 294-8365
South Green Street is right off of route 9


1st stop in the morning - Get bait!
Tuckerton Bait and Tackle is a small quaint fishing shop. It has an historic New England seafaring small town shop feel. The prices are the most reasonable that we have found in the area and the owner was extremely nice. He has restored the small building and he was glad to offer some history about the area as well as some crabbing tips. Grab a net, a crab trap and some drop lines along with some bunker crabbing bait and your on your way!


Bunker
The best bait for crabbing is bunker, but any oily fish or fish carcasses or chicken backs will do. It is fun to go to the bait and Tackle shop with the kids and look around. Don't forget your bucket. If you are planning on keeping your crabs then you should do this part of the day trip last so you can get the crabs home alive and fresh. But if you are going just for fun, do this first thing in the morning as crabbing is better in the early AM hours.
---
South Green Street Park
Keep going down South Green Street to the end and you will see the Park

Great Crabbing Spot
All the way at the end of the road, there is a small park area with railings around it, parking, a pavilion, and a bathroom. The South Green Street Park is a perfect place to Crab right off the Bulk head. You will see other fellow crabbers who will be willing to lend a hand if your not really sure how to crab. The locals will also offer advice on the best times, baits and strategic tactics to catching crabs!


Tie up your drop line on a piling!
Crabbing is a lot of fun for the whole family. You may not catch a large amount of crabs, but you can catch enough to eat if you go about it correctly. It is easy, inexpensive, and entertaining. Make sure you check to see what the minimum size crab is for the keeping. The pier is dog friendly. The locals are always friendly and this spot is ultimately a great location for crabbing with small children.
---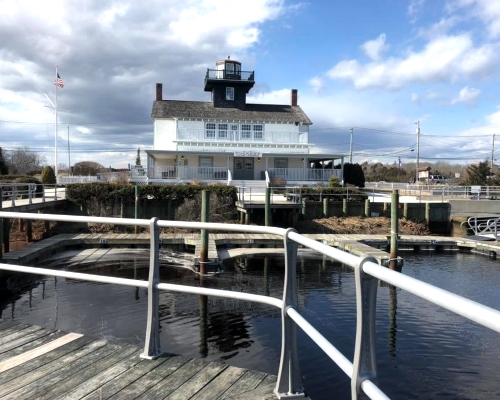 Tuckerton Seaport- Route 9 Tuckerton NJ
Head back down South Green Street and make a left on to Route 9.
Visit a Historic Maritime Village Catch the Spirit of the Bay at Tuckerton Seaport, a recreated maritime village located along the Tuckerton Creek in historic Tuckerton, New Jersey. Located on a 40-acre site along Tuckerton Creek, Tuckerton Seaport currently contains 16 re-created and historic structures that represent NJ's maritime culture of the Barnegat Bay region. The area is tranquil and actually very lovely. This is a great day tripo idea for couples and families alike. Skeeter's Seafood Cafe Skeeter's Cafe is a BYOB traditional Crabhouse located at the Tuckerton Seaport on the Tuckerton Creek. Everything is made from scratch and battered and breaded by hand. Skeeter's opens at 12 noon for lunch and dinner seven days a week, May through September. For more information, call Skeeter's Cafe at (609) 296-4163.
---
The Great Bay Boulevard
Right off of route 9 only a few blocks away from South Green Street

Just down the road from the Tuckerton Seaport, on Great Bay Boulevard (also known as Seven Bridges Road) visitors can take a kayak eco-tour that winds scenically through the salt marsh. This is also a designated wildlife sanctuary as it is on the flyway for more than 100 species of birds. Of course, fishing from one of the old rustic wooden bridges is fun too.
---
Have a casual Italian lunch right on the bay
Off of South Green Street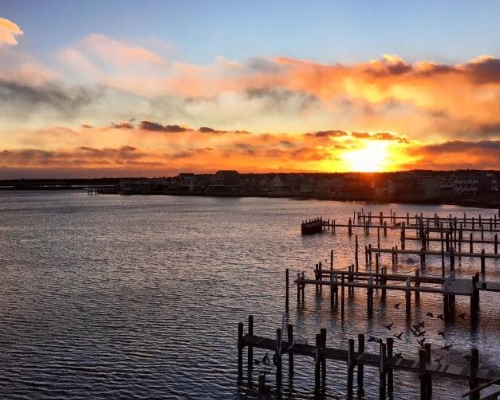 Panini Bay Restaurant
Panini Bay Restaurant is located on 101 Parker Rd in Tuckerton, NJ. Panini Bay is a cozy, warm restaurant that overlooks the bay. The food is simple but very original. Spaghetti and local clams with white or red sauce is a real winner! We didn't get a chance to try it but we've heard that Kathy's Bolognese sauce is absolutely wonderful. Well worth a try.
Have lunch at a very nostalgic Stewarts
This is one really cool Stewart's where the 50's still lives on! For a very fun atmosphere with great service, head to Stewart's. It has an authentic 50's style and old Fashioned Car hop service. There is no air conditioned dining room, but it offers a great view of the lake, bay and Tuckerton Seaport. This Stewart's is truly one of the last of a dying breed.
---
Other things to do on your Day trip in Tuckerton NJ


Stanley Tip Seaman Park NJ
This outdoor recreation area located at 120 Lakeside Drive (Rt. 9) Tuckerton, NJ. The Park is 22 acres. The facilities include basketball, bike trail, fishing, fitness trail, handicap accessible, horseshoes, open play area, picnic area, playground, restrooms, shuffleboard, small boat launch, soccer, softball, tennis and volleyball. This park is an awesome spot to brig the kids, a whiffleball bat and the dogs to have an awesome family picnic!
Village Shops at the middle of the shore
The Village shops are located at 161 East Main Street. 18 little unique shops are nestled within a quaint Victorian style Shopping Mall. Included in the mall is a scrapbooking shop, a pet boutique, a bakery and the Joyce Lawrence Fine Art Gallery. A cool shore spot where you can Crop, Shop, eat and relax all in one stop. Please call 609-294-8829 for more information. Located just blocks from Stewarts and Stanley Tip Seaman Park.